Tiffany and Tony
how they asked: On February 26, 2015 in Orlando, FL is the day I will never forget. The special day started off with a little pampering at the spa, which included a relaxing massage. Tony told me he had a special day planned after the massage.
His parents told me they were going to Tampa later that day but they would be able drop us off. I quickly got ready and we were off. We arrived at Farris and Foster's Famous Chocolate Factory.
When I entered I was taken aback. It was just so charming and picturesque. The colorful disco strobe lights, romantic music, and red wine made me smile.
It was just us two and it couldn't be more perfect. I thought to myself this is the best date ever! Tony mentioned we had a few other adventures planned but everything else was a secret. I was so excited.
Before we left the Chocolate Factory I finished a puzzle that said, "I love you" and was presented with a chocolate square that read, "the best is yet to come". I was so happy! Upon exiting the Chocolate Factory there was a white limo waiting for us! I was in awe!
At our next destination, we arrived at Fort Wilderness Resort. I was shocked to see a beautiful white horse and carriage.
Tony said "We will be taking this to our next destination." It really felt like a dream. Once the horse and carriage stopped, I saw a picnic basket and noticed the Princess Castle across the lake.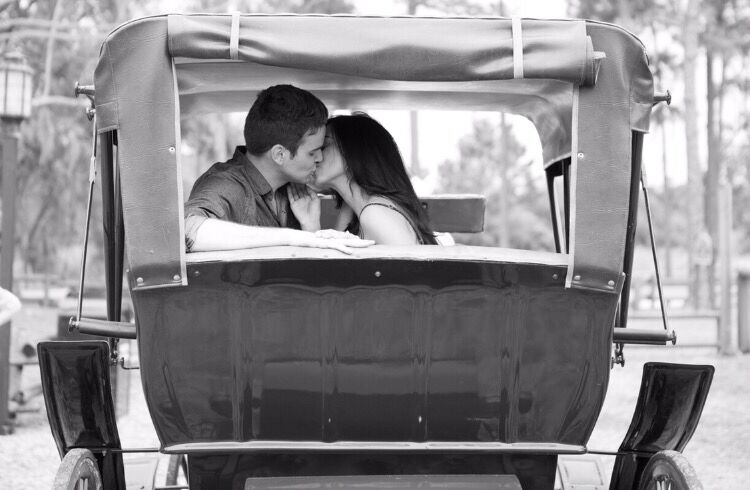 Tony said he had planned a picnic by the lake. He then asked if I could get the appetizers, I opened the basket and to my surprise I saw a beautiful hand carved wooden box with my name on it! To top it off it asked the most important question: "Tiffany Guebara will you marry me?" There were also wine glasses that read "We're engaged!"
My eyes immediately filled with happy tears and my knees became very weak. Tony was down on one knee and asked me the big question. He said 'I promise to love you forever… I want to spend the rest of my life with you, Tiffany Guebara. Will you marry me?'
I had tunnel vision. All I could see was my beautiful man kneeling before me. A long 3 seconds later I replied, yes! Am I dreaming? This must be a good dream, I thought for a second. I again said, Yes! Before nearly falling over when he lifted me up and gave me the biggest hug. I came back and reality set in.
This wasn't a dream this was real life. I was so excited to start this new journey together! I will never forget the happy and surprising feelings I felt that day. I had the biggest smile and Tony did too!
We then returned to the limo where I met with my mom and sister and his parents. I had no idea my sister and mom would be in Florida. I was so excited that they could be there to celebrate my special day.
The limo then took us all to a chapel where we took pictures. We then went to have dinner at California Grill in the Walt Disney World Resort. The waiter brought me a glass slipper that from Tony that said 'to my princess Tiffany.'
After dinner we watched the beautiful 'wishes fireworks' seen from the balcony of the 15th floor in the restaurant. The fireworks ended and we then headed back to our villas where I was again surprised with a celebration party with both our families.
Later I returned to my room to find petals in a heart shape along with a sweet card from my new fiancé. :) There was a beautiful necklace that said 'all of me loves all of you.' Tony also wrote me a card telling me how excited he was for our future together.
It was such an incredible experience. I couldn't have imagined a day so special. It was the day I'll never forget.