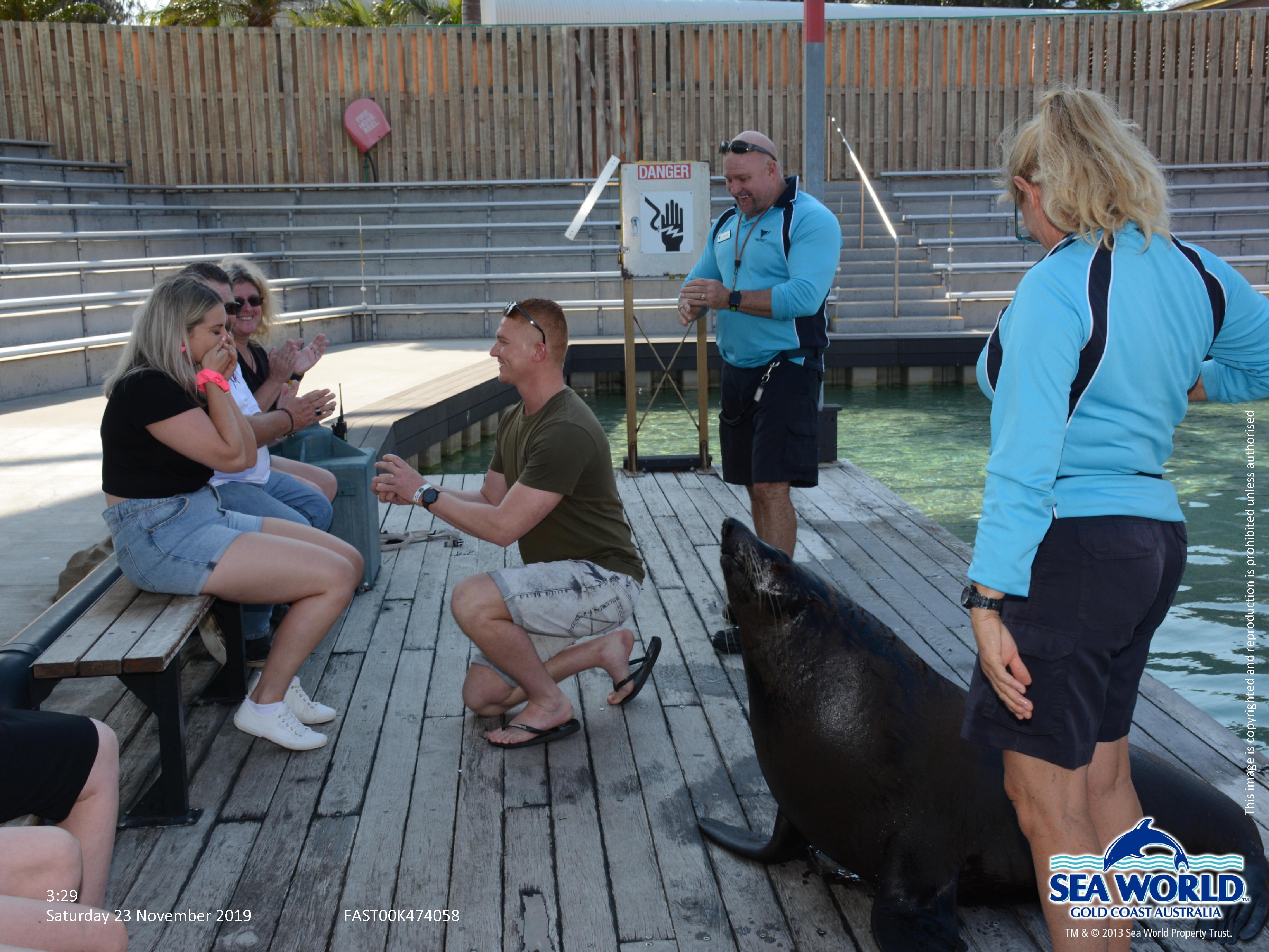 How We Met
We met on Facebook originally and spoke for months on and off. We developed nicknames for each other – Wonder Woman and Superman. I got a random bunch of beautiful flowers delivered to work one day with a note that said "Wonder Woman, it's about time we went on a date, wouldn't you agree?" And that's was it! 💖
How They Asked
We had planned on going to Sea World with his sister… for his sister but little did I know that it was all a big setup. Tom had been speaking with the staff at Sea World Gold Coast for months trying to figure out a way that he could surprise me with a proposal.
We had been there for a few hours when he surprised me with a seal encounter. There was a small group of us, only about 10 or so. During the seal encounter, the seals do tricks and what not. The staff said that they'd been trying to teach the seals new tricks about recycling and wanted to see if they would do it or not (little did I know that this was all part of the proposal plan). So the seal swam over to a plastic water bottle and brought it over to the group. The staff said there was an environmental message in it and that Rambo the seal would pick who gets to read it.
I was super excited about this as I love animals and I desperately wanted to be the one he chose! He went along beside each of us and shook his head until he got to me and he let out a big noise and picked me. I was BEYOND excited! I had eyes for the seal and the seal only – if I had have looked beside me I would have seen Tom a nervous fidgeting wreck. Lol. I opened up the "environmental message" and started to read it to the group. I noticed a picture of Wonder Woman on the paper and then began to read "Wonder Woman, it's about time we got married, wouldn't you agree?"
Tom got down on one knee and told me that he couldn't think of a better way to seal the deal (pun intended) and asked me to marry him! 😍 It was the most perfect proposal, so thoughtful! We got told after that it was the first proposal at that Sea World during a Seal Encounter.