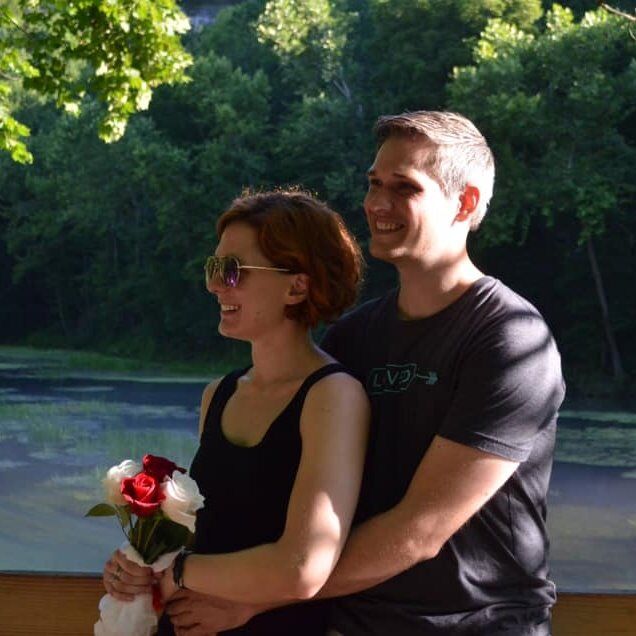 How We Met
I entered university a little later than most and didn't meet anyone whom I viewed as a partner in life, but that was ok in my mind. I'm introverted and self-reliant, I don't need another person in order to be happy. I finished a rough last semester of college and had a bad falling out with my roommates at the time. I was done with people in general. My sister and I got an apartment together and I started working full time. One year later I still hadn't met anyone, so I started collecting cats; it was time to accept my fate, I was going to be the cat lady who never marries – Not that it's a bad life choice by any means. My sister started sending me screenshots of different dating profiles.
"Did you make me a dating profile?!" I asked
"No, what do you mean?"
"Good, don't. I don't want one"
She made me a dating profile.
And so began the digital journey of sifting through people; some who were certainly wonderful but just not my taste, and others who were total creeps.
And then my sister sends me HIS profile. Lane Brinkmann.
Dang, he's cute!….
This is a catfish, isn't it….
He asked for my number, and I was very impressed when he actually called first instead of texting.
His voice had a little Missouri twang in it which made me smile. Talking to him came so naturally, in a way I had never experienced with anyone else. When we met in person I could tell he was nervous, but that same easy flow of conversation we had over the phone came effortlessly.
How They Asked
We decided to hike over the weekend, little did I didn't know he had planned this for at least a month. Hints were dropped by my family left and right that I just didn't pick up on, like the very intense way my mom insisted we were having dinner together tomorrow. The next morning he asks which hand I prefer to hold, I reply "Both, I guess." He says he prefers to hold the right hand (the ring was in his pocket on the other side).
When we got to the natural spring He got on one knee, and pulled the ring out! Before he even said a word, I nodded my head and said "Uh-huh" with the biggest grin on my face like a big dork.