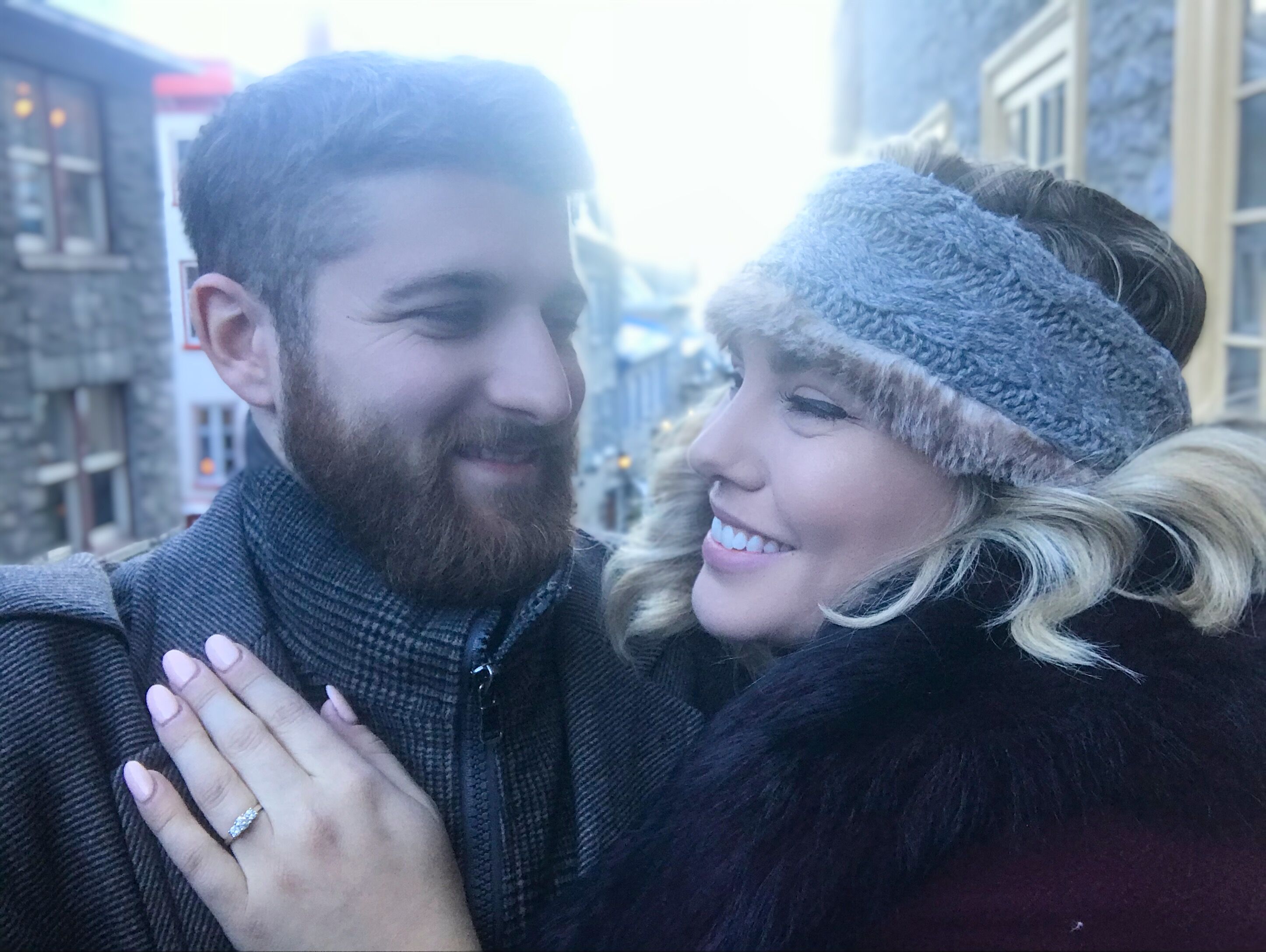 How We Met
B: The night we met started like every other night at the bar. Though in hindsight, that night would be like no other. I'm standing at the bar, in my brown cardigan that I bought that morning and waiting to be served. After a brief chat with a mystery woman from Maine, it ended in a flash and like lightning she ran away.
M: It was the night before Valentines Day. My friends and I were all in agreement that we weren't interested in meeting anyone. So I walk up to the bar and see a guy wearing an old man sweater. Being 200 miles away from home, it was odd to see a Maine ID over his shoulder. Before I could stop myself, we were already into our conversation when he wanted to buy me a drink…and I ran away.
B: It's now Friday, on the day when Cupid's arrow always misses me. Me and the boys went out to a house party where I least expected to see Michelle. She looked even more beautiful than I remembered.
M: When I walked in, I was greeted by a familiar face handing me flowers. I'm sure anyone reading this can guess the punchline here: it absolutely was not Brian!
B: Yeah, I watched it. Didn't phase me.
M: Poor guy. Really nice gesture and he just got ghosted. Brian and I just couldn't stop talking.
B: All these years later, and she's even more beautiful now.
How They Asked
In 2015, after graduating college Michelle and took a celebratory trip to Quebec City. In the coming weeks I was set to move to Cape Cod to start the next chapter of my life. This would become a special place for us, a happy place for us. The place we came together before we were supposed to move apart. With a stroke of dumb luck and on a hot whim, Michelle found a castle an hour away in La Malbaie. We arrived to the most gorgeous views over the Saint Lawrence River. The surprise wasn't just the castle, but also the walking trails and casino games. We both knew we had to go our different directions – but, we also knew that our connection and companionship was far too strong to let go.
By 2019, it was time for us to return to Canada. Michelle planned a long weekend for us in Quebec City – mostly so she didn't have to burn another turkey. I knew the exact right time and place to propose. While walking to work, I stopped in to a local jeweler and found the perfect ring. 3 stones, each representing the evolution of time: past, present and future. We made it back to La Malbaie on the chilly, autumn Friday after Thanksgiving. We were walking the same trail from years ago with the scenery as gorgeous as we remember – with the exception of a construction fence blocking us from the most epic vantage point, which stopped us from the spot! I tried to get Michelle to hop the fence with me, but she pointed at her delicate shoes, "no way!" After turning time into chips at the casino, we went back out on the path along the river. Michelle was busy taking photos of the view when I took a photo of her for myself; I proceeded to present the ring. With her still turned away, I waited patiently until I couldn't wait anymore.
"Love." I said. "Will you marry me?"
She spun around and melted into my arms.