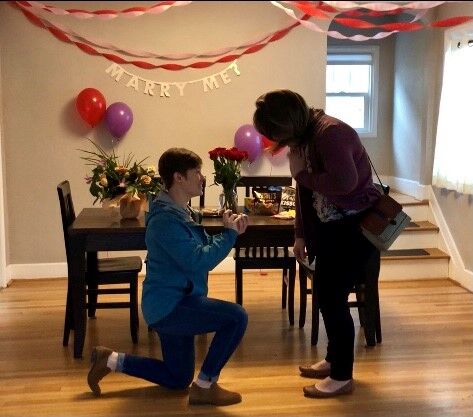 How We Met
My best friend accidentally swiped right on her profile.
How They Asked
We selected rings together from a local jeweler. After weeks of waiting for the rings to be delivered, the jeweler notified us that mine did not pass final inspection and required several weeks to be remade. I was disappointed but didn't suspect a thing.
In the meantime, we had just closed on our first home and arrived at our new place to perform the final walkthrough. As we opened the door, our realtor asked if she could film our reaction to receiving keys and entering our home for the first time. She insisted she needed to film from across the room out of COVID precaution. We pulled our key from the lock together. Still being filmed, Katie grabbed my hand and led me toward our new dining room which had been decorated with roses, champagne, and chocolates. She knelt, pulling out my perfectly designed ring from her pocket, and proposed.