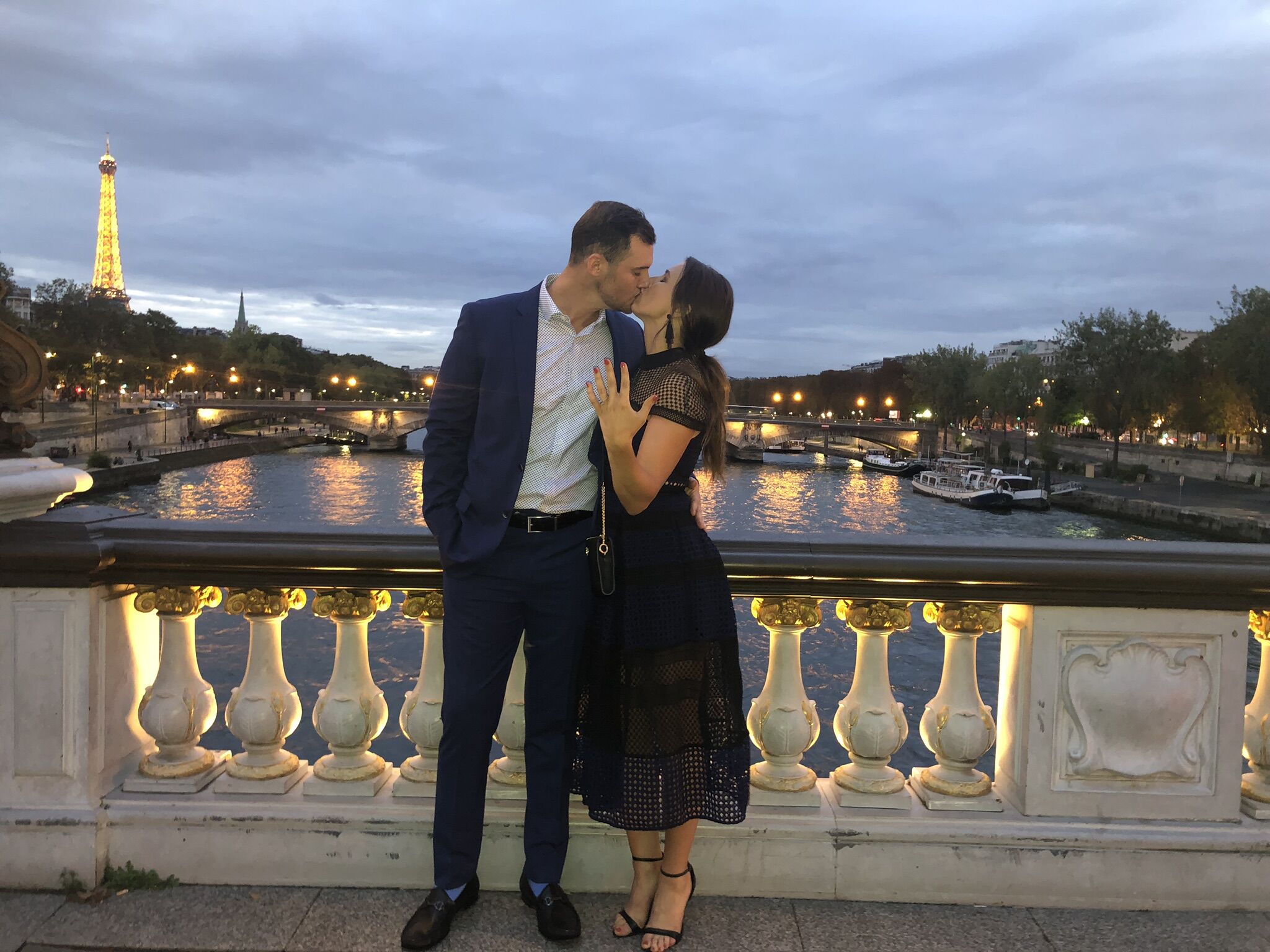 How We Met
It was the summer of 2017, and Kelsey and Pat were living their best lives as two singles in Buckhead. Each August, Kyle Leonard hosts an infamous "pool" party that is notorious for bringing people together. Thalia (bridesmaid) convinced Kelsey that she needed to go to the party and meet the "Florida State" crew.
Upon arrival, there was, in fact, no pool, despite the entire crowd being in their bathing suits. The sad excuse for a slip n slide in the backyard had a few furry friends frolicking around, so Kyle's ingenious plan to get all the girls to wear their bathing suits seemed to work. Pat decided to stand out of the crowd by flaunting a button down with bright pink cockatoos that gave him an extra level of confidence that day. He walked right up to Kelsey and her friend, Sydney, and said…. "Sup?"
Kelsey and Pat discovered they had a lot a common……. Technology sales, only children, golf, and even girl golden retrievers named Lacie and Layla. Even though they won a game of corn hole together and seemed to hit it off, Pat still didn't ask for Kelsey's number before she left to spend the rest of the evening with her girlfriends. Luckily, Thalia already knew Pat through mutual FSU friends and was able to get in touch with him to confirm that he was interested in Kelsey. It only took a few weeks, but finally the text came through… "Hey Kelsey. It's Pat. The tall, goofy, but kinda good lookin guy from the party."
For the first date, Pat took Kelsey to her absolute favorite restaurant in Atlanta, The Optimist (with a little insider information from Thalia). After dinner, they finished off the evening with a nightcap at Barcelona wine bar, where they were discussing the best pizza restaurants in Atlanta. Upon discovering that neither of them had been to Antico (rated 8.3 by el pres himself), Kelsey took a leap of faith and told Pat that they should go there for date #2. After, spitting out his drink, Pat quickly agreed to her proposal.
Antico was a success, and Kelsey even have the chance to meet the girl that got Pat on his knees, Layla……. but it was date #3 that sealed the deal for Pat. He took Kelsey to TopGolf to show off his big drive. He was scheming to help her with her swing to get close to her, but little did he know that Kelsey's dad already had her smoking 220 yard drives straight down the fairways. The rest is history.
How They Asked
For Kelsey's 30th birthday, Pat went above and beyond, and gifted her a gorgeous Louis Vuitton purse with two plane tickets to the City of Love (Paris) inside. When she left the room, Pat announced to everyone that he had some big plans for their trip. Somehow, everyone was able to keep these big plans a secret to Kelsey.
They left Atlanta on the evening of October fourth, the day before their Two Year Anniversary. While Pat was panicking over the fact that he had to place his backpack an entire section behind them on the plane, Kelsey was dreaming about Bordeaux wine and Macarons. Jordan Argiz, one of Pat's Delt pledge brothers, happened to be in Paris planning his wedding with his fiancé Caitlyn. Pat made plans to meet them for a drink before a dinner at Tour d'Argent, a Michelin star restaurant. As Kelsey continued to cause a fire hazard with each hair tool she plugged in, Pat quickly grew nervous that they were going to miss all of their plans for the evening, and depleted the mini bar in the room.
After meeting their friends on a boat for a pre-dinner cocktail, Pat mentioned that they should take a picture on the Pont Alexander III bridge, because it was "great scenery". Kelsey was caught off guard, knowing that Pat hates taking pictures. He might have been able to pull off the element of surprise if he wasn't so logistically challenged. He suggested crossing the bridge to take the photo, however, Kelsey knew dinner was in the opposite direction. She went along with it, as her interest was piqued.
They found a picturesque spot with the Eiffel Tower in the background, and decided to ask a woman standing on the bridge if she would be willing to take a photo. Even though she was smoking a cigarette and seemed annoyed, she reluctantly agreed. She snapped a few and almost dropped the phone handing it back to us. After. looking through and confirming our eyes were open, Kelsey told Pat they were running late for dinner. After stumbling over his words, Pat grabbed Kelsey's hands and blurted out "I love you!". Kelsey looked at him curiously and assured him she loved him as well. He then said, "What I mean is, I love every day that we spend together. I hope we get to spend the rest of our lives together", and he got down on one knee. Kelsey was extremely surprised to see a shiny object in the box that he was holding, as they had not discussed any rings. After catching glimpse of the most beautiful emerald diamond she had ever seen, she excitedly accepted, and they had a moment on the bridge.
After looking around, no one around them seemed to notice what had just occurred. There was a bride on the other side of the bridge taking photos and other people busily passing by. It seemed weddings/engagements were commonplace in his city. However, that same French lady was still standing by herself and smoking her cigarette. Somehow, they managed to grab her attention a second time. She rolled her eyes and snapped two photos before they had a chance to really think about what they were doing. Pat almost yelled at her, as they both realized that she had just captured the most perfect moment.