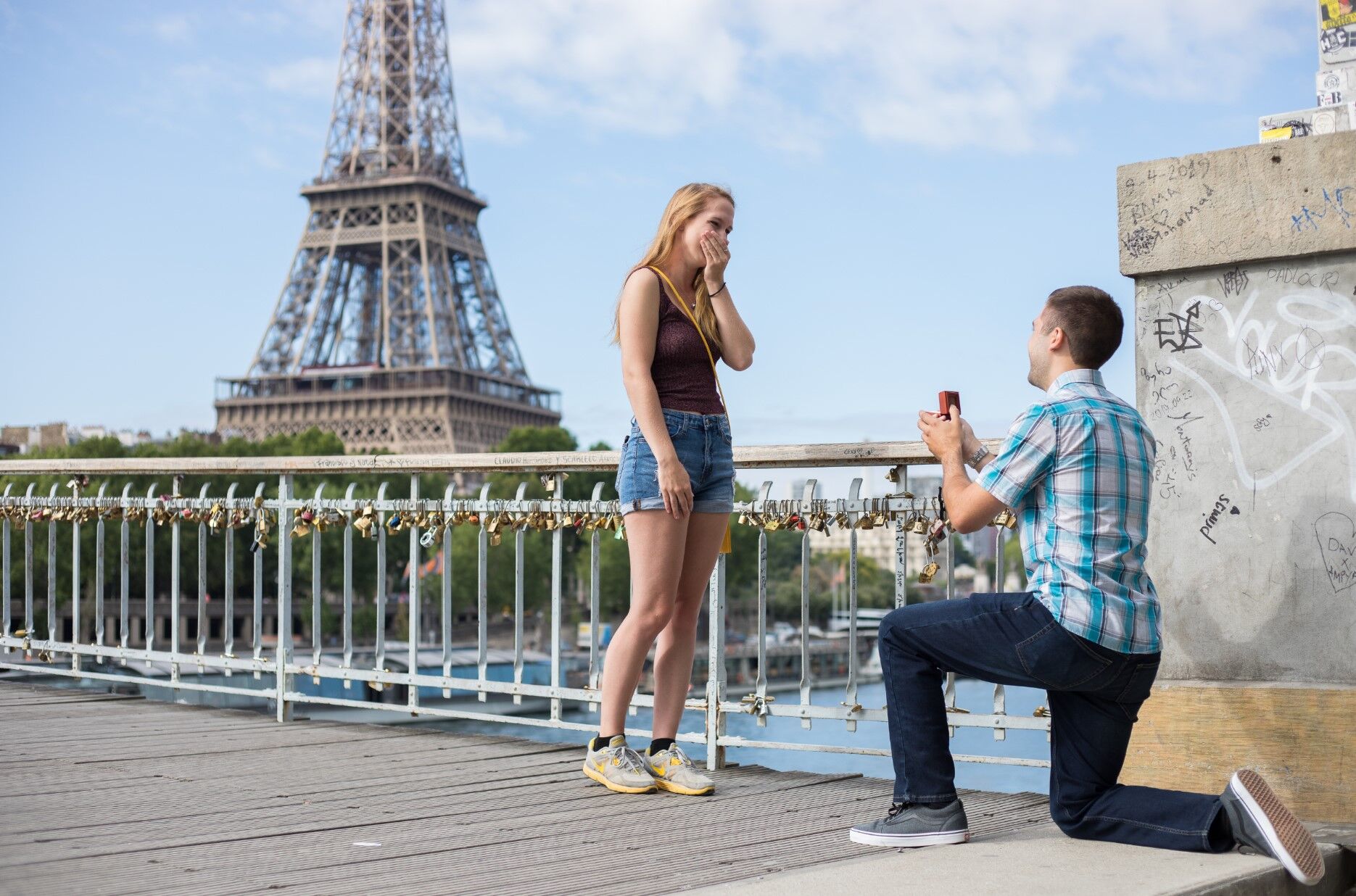 How We Met
Like many others these days, dating was going tough in real life, so I took to the internet/apps! Bumble is where our love story begins. On May 4th, 2017 I messaged him "Hey there :)" I know, it was pretty smooth.
We talked for a while near the end of the school semester, and I may or may not have asked for his smartness in helping me pass a math class. Eventually, I ask for his number, that's right ladies, I made the first move!
Date day comes and if anyone knows me, I'm not the most skilled in driving to new areas… So of course, I drive RIGHT past his apartment the first time around. Cue the first phone call we ever had: "Help, I'm lost!" But no need to fret! I found it! Andrew comes out of his apartment and he is looking so freaking cute! Button down shirt (as usual) but hey, I was impressed. He guided me to the dinner place and here begins the best date, to that point, I have ever had.
That date was one of the longest ones we had, it went on for hours and we couldn't stop talking. I don't believe either one of us wanted it to end. But at the end of it, I knew I wanted to see him again. I knew that he was the kind of man I could see myself spending the rest of my life with.
It all started with a swipe to the right. And within a month (to the DAY) he made me his girlfriend. And that's where our adventure begins.
How They Asked
So July of 2019 my parents and I went on a three-amigos family trip to London and Paris.
Side note: I was voted most likely to travel the world in high school, and at the time I was also OBSESSED with Paris and the Eiffel Tower. Anywho.
The trip was WONDERFUL. The night we arrived in Paris we had dinner then took a ride to the Trocadero which has a beautiful view of the Eiffel Tower, especially at night. I'll admit, I basically RAN to the Trocadero and was so giddy with excitement. So I guess my obsession didn't quite wear off, huh? I take pictures, Mom catches up with me, we enjoy the moment and the beauty of it. On the bus ride back to the hotel, I text Andrew a picture of me in front of it and say: "This is THEE proposal spot!" Huh, I was pretty close…
The vacation carries on and sometime during all this, I am getting suspicious of Andrew as he is always up to shenanigans. Always. With my suspicions rising, and partially just the idea of getting proposed to, I texted him again: "You know, this would be a really good ploy for you to surprise me and come out here lol seriously though I hope you feel better."
His 'ploy' was a tummy ache. This was to allow him to 'sleep' for almost 12 hours to cover up his flight and everything. After that text, I later asked for a picture of him because I missed his face! He sends one of him in bed (supposedly still not feeling well) and his face is covered up. THIS. This is the point where I get really suspicious. I start talking about it to Mom about how I think he shaved because he isn't showing his face and how he would only shave for something important. I kept going on and on about how good he is at shenanigans but how I'm better because I can now catch them (well, not quite). She tells me I'm crazy and dramatic, so I give up on that idea. Because she's right. Who in their right mind would fly 4100 miles just to propose? Well I'll tell ya who. Andrew.
So Friday now comes around and it was a 'free day' for us. We had the option to just wander the city or go on some excursions. Since my parents were sick we opted out of the excursions. Friday morning, we are up and walking to Passerelle Debilly for some cover-up my dad created.
Well, we get to the bridge and my dad hands me the final letter from Andrew. (Andrew gave my dad letters to give to me every day of the trip, by the way, and each letter had a place that I would be at so he basically knew the trip better than I did). The front of the letter say "Passerelle Debilly" and I'm like what? How does he know where we are!? Mind you, this was a 'last second decision' so that was impossible. Anyways, so I open it and start reading and finally I get to the bottom and I stumbled over the last couple of lines. He's talking about having a lot to say and that it's a lot to write down, and the last he wrote line is 'this is it…'
By this point I am TRULY confused, but like my mom said, I'm crazy and there's no way he would come out. So I give up on trying to decipher the letter (which looking back at it… DUH girl, how blind can you be!?) and I give the letter back to my dad. Then I hear Andrew behind me saying, "I know it's not the ends of the Earth, but it's the best I could do."
OH MY GOSH. HE'S HERE! (Guys, I freaking knew it. I should've trusted my gut.) Honestly the next like five minutes were a complete blur. He proposed and I said yes! We spent the next hour taking engagement photos. For the rest of the day we wandered the city as fiances before heading home the following day.
And that's how we became engaged in Paris. Au revoir!