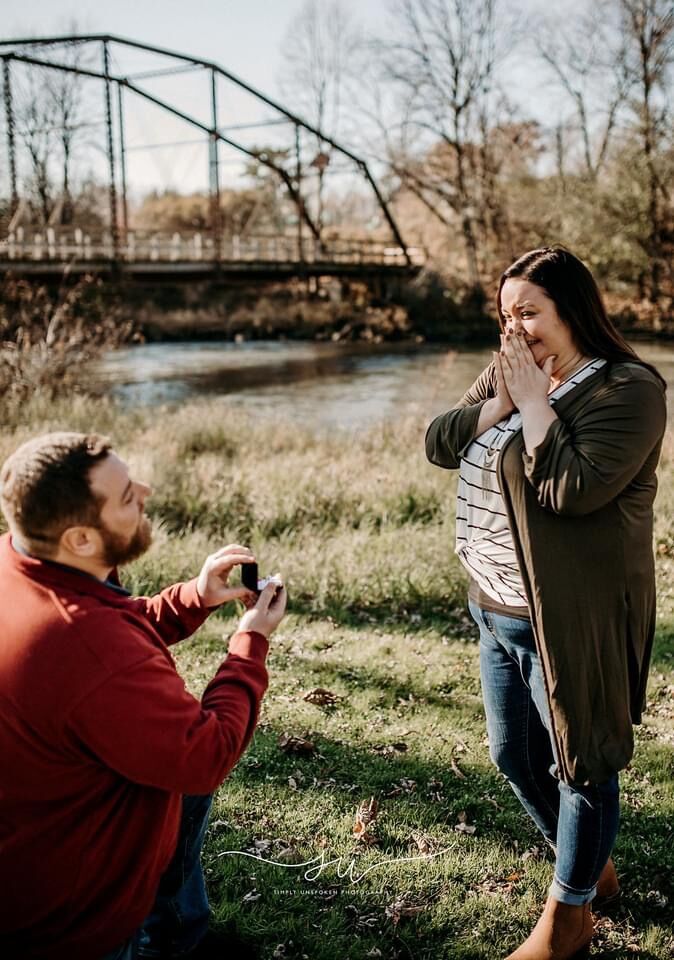 How We Met
We stumbled across each other on the popular app, Tinder, in July 2015! We met at Landmark Lanes in Milwaukee and spent the night conversing about our families and future goals. We were nearly inseparable ever since!!
How They Asked
On Halloween 2020, family pictures with Bryce's side of the family were scheduled to take place. On the way to Baraboo, Bryce got a call from his mom saying that they would be late to pictures as she and Bryce's dad were his sister's house helping get the kids ready. We arrived to Lower Ochsner Park and met the photographer, Jess. Jess asked us if we wanted to take a few pictures of just us as we waited for the rest of the family to arrive. After several poses, the photographer directed us to walk toward the bridge as she had previously taken pictures from that angle and thought it would be nice to get the bridge in the background. Bryce got down on one knee and pulled the ring box from his sock. I didn't process what was going on right away. I had been dying to say yes for YEARS – and was quick to accept Bryce's proposal once I realized what was happening. Shortly after, Bryce's parents, my parents and my sister arrived to the park to join in on the celebration. Bryce's sister's family was there in spirit – the slight downfall of getting engaged amidst a global pandemic as they were quarantined.
Now, we are EXTREMELY excited to be planning our wedding and can't wait to spend they day with all of our family and friends!