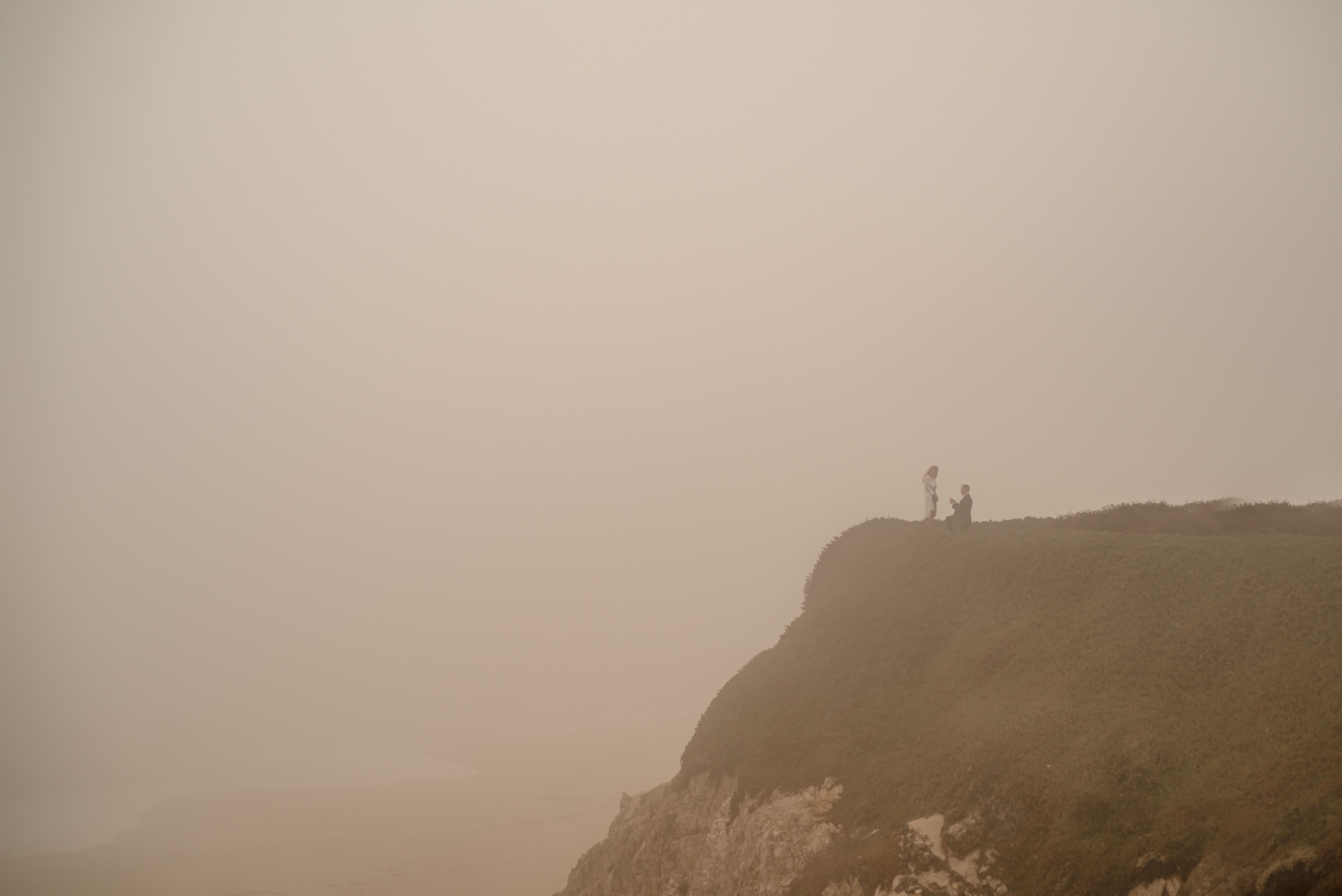 How We Met
Felicia's version: We met through mutual friends when I started graduate school. We hung out with a bigger group weekly, then after 2 months, Dan asked for my number. When he first asked me on a date I said no…. because I wanted to watch the Olympic Opening Ceremony (sorry Dan!!), but told him he could come, hang out! That was when he told me he was leaving for graduate school in New Hampshire. The next day we went on our first date.
How They Asked
Dan's Version: I suppose you deserve the truth…so here we go!
I was in my mid-20's grinding it out in the rural surrounds of the gritty city of Scranton, PA. I had been working for a few years but my life was at a crossroads. I thought about business school, but realized that it is quite expensive! So to save money, I decided to move into a house with some co-workers.
One of my roommates started her grad program in Scranton, PA, and made friends quickly. Somehow my other roommates and I convinced her to allow us to hang out with her friends from school. I think we wore her down but we were given explicit rules to follow, which I sort of followed…
Anyway, so we go over to an apartment in Scranton where a few of my roommate's friends lived and that's when I saw her…it was incredible…time stopped…I heard trumpets sounding…I saw little cherubs floating around…colors faded and blurred around her…and at that moment I came to know the true meaning of the word…FEAR! I was petrified and unable to speak, I'm not exactly sure how but I was able to somehow make it through the evening. Although, I was able to discover her name…Felicia, which was huge given my mental and physical state. From that point on I was re-invigorated, however, much to my great chagrin, Felicia had no idea of my existence!
Completely devastating I know! First, I immediately realized she was way out of my league, but on top of that, my roommate warned me she was not interested in dating! Yikes…literally starting at the bottom, but I started chipping away. I enlisted the help of my roommates, but even with their support, I could not seem to break through to Felicia…until my roommate/Felicia's classmate put in the good word for me! It was crazy, Felicia actually acknowledged my existence and spoke to me, she even asked me questions (be still my beating heart!). It was insane and although I was still living in a complete state of fear, I was energized.
After about 2 months of seeing each other once every 1-2 weeks, I finally worked up the courage to ask her out on a date…and she said No! I know, I know…shocker, right? But fear not! There was still hope because she said she wanted to watch the Opening Games of the Summer Olympics with her roommates, but I could come over and watch it too. "Perfect, just like I sketched it up" I thought. A completely non-romantic, group activity…just what I was hoping for from the woman I was fawning over for the last 2 months!
Undeterred and on my own, I headed straight into the storm to watch the Opening Ceremony the next night! I bided my time and waited patiently for her roommates to leave and then I had my moment…this was my chance to lay it all on the line to Felicia. Except…one small complication…I had literally (and kind of unexpectedly) just got accepted into a business school like 2 days before…so now I had to lay it all on the line but also tell her I was moving 6 hours away in just 3 weeks! I know…I know…nice Dan, real smooth.
But I pressed on…I held her hands and explained to her I just got into school, but she pulled back! Somehow I found the courage to continue and hold her hands as I explained that I wanted to be with her. (Quick aside – I'm a very simple man, I like straight-forward things like boyfriend/girlfriend instead of "talking" or other descriptors the cool kids use these days.) However, when I made my pitch, Felicia was like…ummm, let's see how this goes…devastating I know (yes, there is a theme so far, thank you for that feedback, but hang in there with me…our underdog isn't done yet). But wait!! There was a glimmer of hope as she agreed to go out with me on a dinner date the following night!!! And I thought I was afraid before…
Somehow the date went well and I had earned my way to what I affectionately like to call a "prove it period." This is where I had to prove to Felicia (from a distance while we were both in school) that I was boyfriend material! Luckily, I was somehow able to evolve from not being able to speak, to sputtering out sentence fragments, to a dinner date, and finally to being Felicia's boyfriend!!! Wow! Even to this day I smile and shake my head about it as I'm really not sure how it all happened. It definitely took a village that's for sure.
And so we were boyfriend and girlfriend finally! I was ecstatic! Although we were dating at distance for almost 2 years while we finished up our programs, we were committed to one another! We would text when we could and saved up our talking for long phone calls on Friday or Saturday nights each week (quite often 4-6 hours long!!). I would drive down to Scranton a few times a term and Felicia would come up once a term to visit but how would we handle what comes next?
Well, we had agreed to move in together, but first, why not do an East Coast road trip for a handful of weeks, then attend a wedding in Italy together? I mean after 2 years at distance, what's a better test than spending every day in a car/other people's homes/planes/Air Bnbs together traveling? Nothing quite like extremes testing…
Spoiler alert…we passed that test too! Distance, then spending every waking moment together for months?!? I mean c'mon, we got this!! So we moved in together and Felicia started her work as a PA and I started working as a management consultant. I traveled quite a bit and Felicia had a rotating schedule so some weeks we never saw each other but exchanged notes in the kitchen. Eventually, we settled in and our schedules calmed down a bit, but then I began planning my next big fear-inducing adventure…proposing!
I had a grand vision of proposing in Hawaii…that got squashed (thanks COVID). Well, actually it got squashed like 3 times since we weren't sure when Hawaii was going to re-open. I had purchased the ring in December 2019 so I had been sitting on it for about 9 months at that point and it was burning a hole in my pocket.
After our Hawaii hopes for 2020 were finally dashed, we agreed on a Pacific Coast Highway road trip through California!! How exciting! Two east coast kids traveling to the golden coast to enjoy the warmth and sunshine….and wildfires and smoke! After days of researching the exact spot and having a vision in my head, things turned out a bit different, but then again, that's how things go sometimes.
During our planning, Felicia mentioned she wanted to do a nice dinner one night and so without telling her, I booked a reservation! I had a plan finalized and smoke or no smoke…I was proposing at sunset in Garrapata State Beach!
So we headed off to California…but a few days into the trip Felicia had been feeling not so warm and fuzzy due to the smoke limiting visibility, reducing temperatures, and making it look like we were on Mars, but we somehow agreed to keep pushing on with the trip. Major relief on my end because if we left, I don't know how I would have proposed after 2 epic failures.
Finally, the day came…and it was super smokey…bummer I thought, my vision was just not coming together! But I will say, the smoke gives sort of an ethereal, other-worldly vibe that is actually pretty cool! So Felicia and I did what we do all the time, get dressed up and go to a beach before dinner (just kidding, we have literally done that this one time…I know, I know…real smooth planning). During sunset, on a cliff above the ocean, with the waves crashing beneath us, somehow…someway…Felicia said YES!!!! It's been an amazing journey so far and I can't wait for our next chapter together!