So what if we have to endure a little heartbreak every time a couple from The Bachelorette or The Bachelor breaks up? We'll always have next season's engagement to look forward to—and maybe, more importantly, a new Neil Lane engagement ring to get the deets on. From Becca Kufrin to Trista Rehn (the OG Bachelorette), prepare to obsess over 15 of the most memorable sparklers from ABC's hit reality series.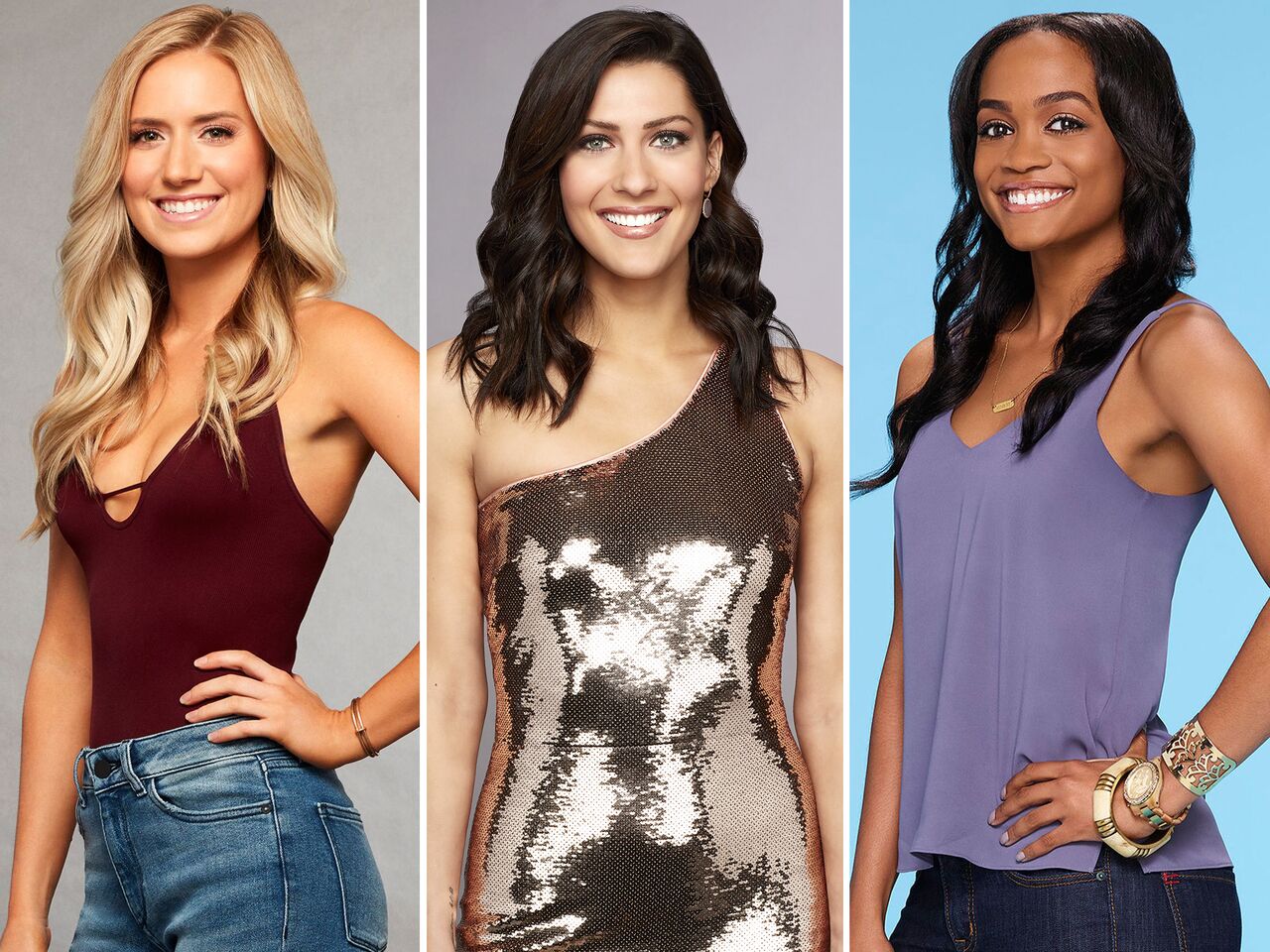 Photo By ABC
15 of Our Favorite Engagement Rings From 'The Bachelorette' and 'The Bachelor'
Becca Kufrin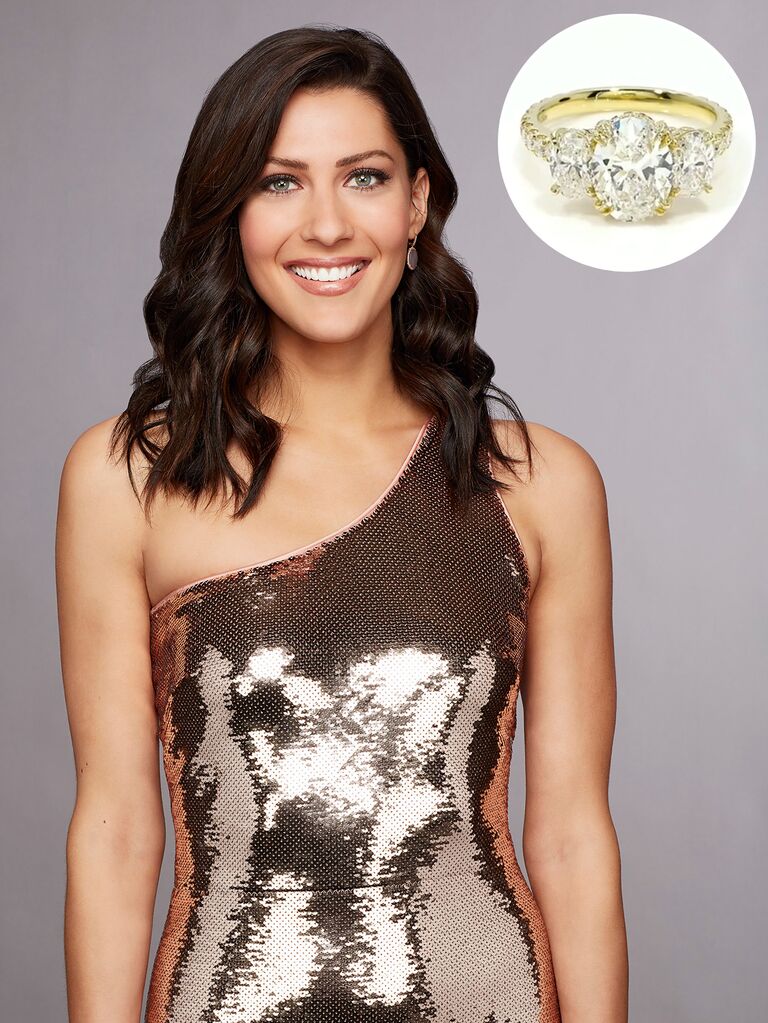 Photo By ABC; NEILLANE/INSTAGRAM
Rachel Lindsay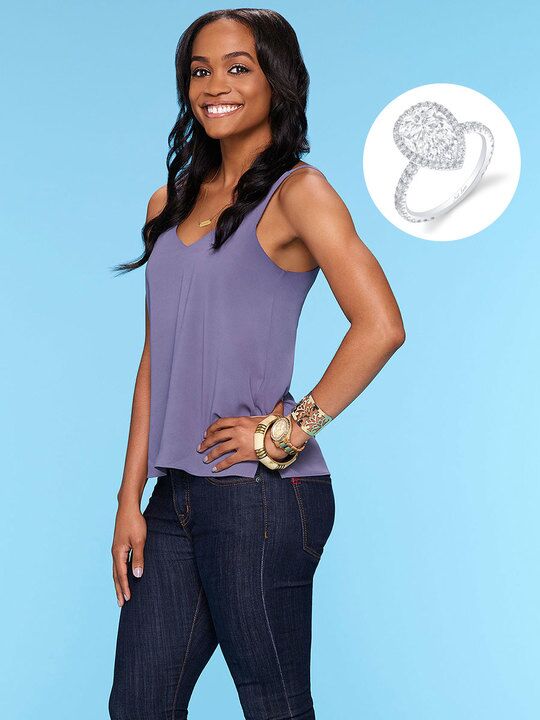 Photo By ABC
The Fiancé: Bryan Abasolo, The Bachelorette season 13
The Engagement Ring: Abasolo selected a pear-shaped diamond set within a halo of 80 round-cut diamonds. The 3-carat piece, designed and signed by Neil Lane, is set on platinum and diamond. "I couldn't be happier with how the ring turned out," Lane tells The Knot exclusively. "I gave Bryan a variety of cuts to choose from, but he was instantly drawn to the delicate pear shape. Bryan and Rachel have a chemistry like fireworks. He knew her dream ring needed the sparkle to match, and he lit up when he saw the final design."
Is the ring still on her finger? Yes, and the couple is now happily married. Two years after getting engaged, the pair exchanged vows in a glamorous beach wedding in Mexico. Abasolo and Lindsay honored both of their cultures during their oceanside ceremony—and then they hosted a huge dance party afterwards. "We always said we wanted a wedding where we are bringing two different families together and they are able to celebrate life and love and have the best time doing it," Lindsay exclusively told The Knot. "When we reflect on the entire wedding weekend that is exactly what happened."
Vanessa Grimaldi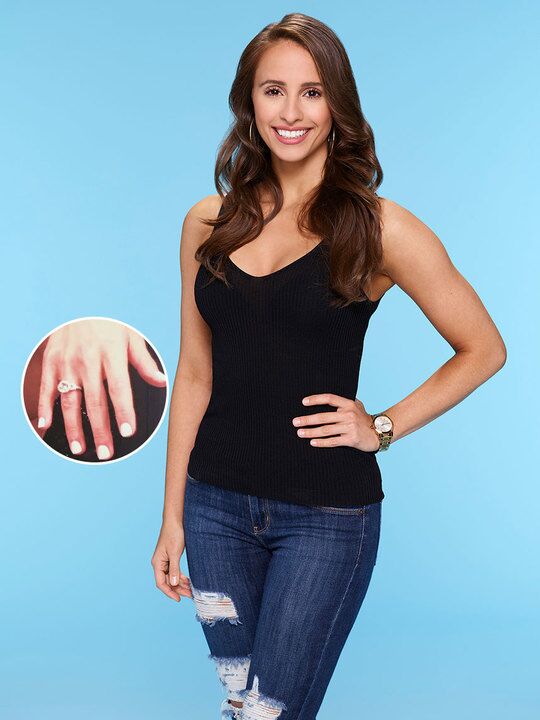 Photo By ABC
The Fiancé: Nick Viall, The Bachelor season 21
The Engagement Ring: Viall selected a 3.75-carat round-cut diamond with a halo and is flanked by two baguette diamonds, totaling 164 round-cut diamonds. "I just closed my eyes and just envisioned her beautiful face. I knew immediately which one was perfect for her," Viall tells People.
Is the ring still on her finger? No. Unfortunately, the couple called off their engagement in August 2017, five months after The Bachelor finale aired. In a statement obtained by People, the couple said, "We gave this relationship our all and we are saddened that we did not get the fairy tale ending we hoped for. We will continue to be there for each other no matter what. This hasn't been an easy decision, however, as we part ways, we do so with lots of love and admiration for each other."
JoJo Fletcher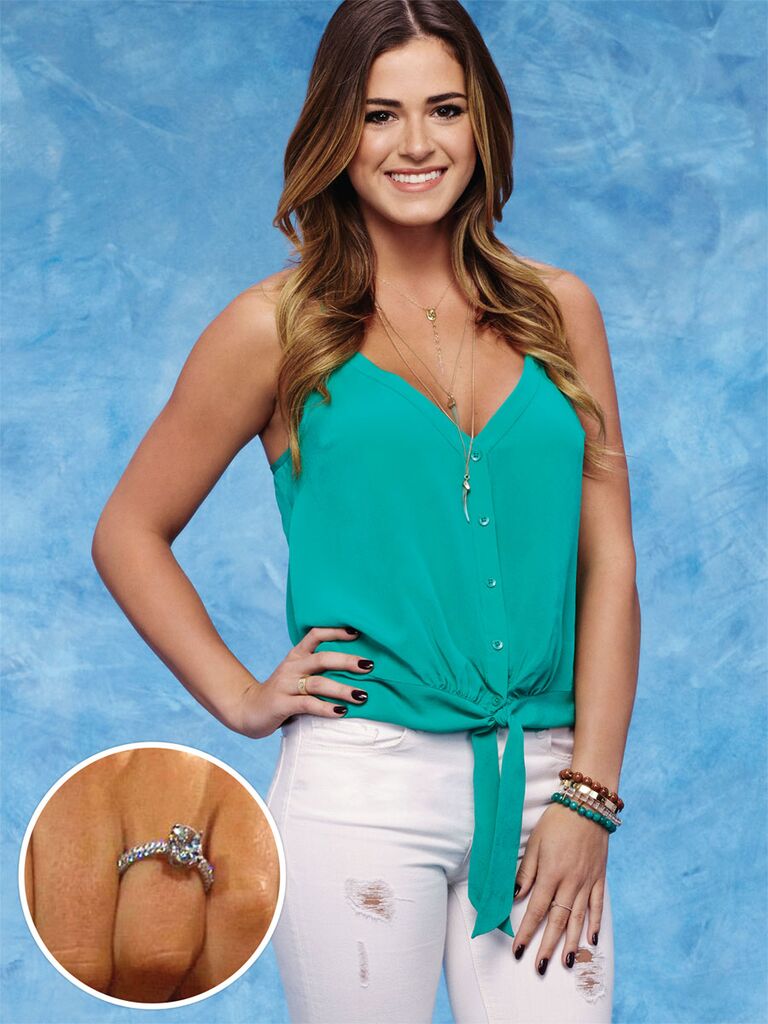 Photo By ABC
The Fiancé: Jordan Rodgers, The Bachelorette season 12
The Engagement Ring: The former NFL player selected a beautiful 3-carat Neil Lane oval-shaped diamond ring with an "encrusted band set with over 155 smaller round diamonds," Lane told People. "Jordan also loved the sparkle of all the diamonds in the band and how the side view looked like a little crown. And how could he not? JoJo is his princess! It was clear he was madly in love with her."
Is the ring still on her finger? The pair is still engaged, but Fletcher is rocking a brand new engagement ring. In August 2019, Rodgers surprised Fletcher by proposing to her again—this time with his own ring. Rodgers took to Instagram to announce the re-engagement. "I always wanted to re-propose, with no cameras, no producers, no drama…just us," he wrote. In the picture, Fletcher shows off her new ring, which features an oval-cut center stone set on a thin gold band.
Lauren Bushnell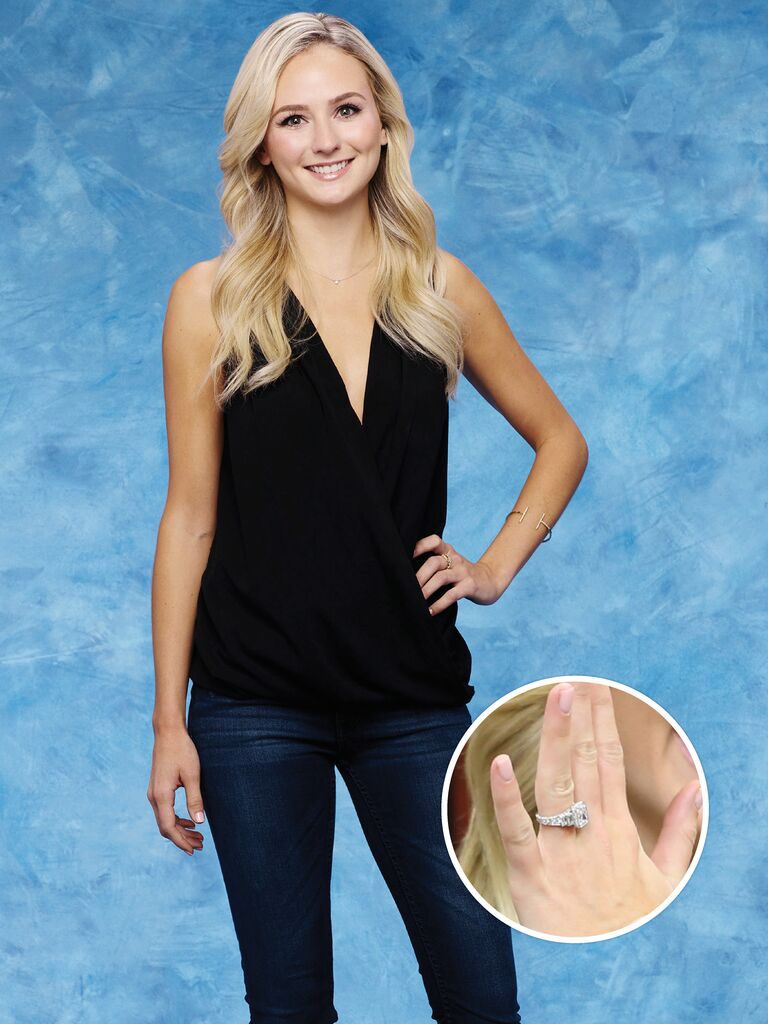 Photo By ABC/MATT DUNN
The Fiancé: Ben Higgins, The Bachelor season 20
The Engagement Ring: Bushnell didn't just rock any Neil Lane engagement ring—her sparkler just happened to be the largest ring ever chosen out of both The Bachelor and The Bachelorette franchises. The ring is a "4.25-carat art-deco-style ring set with a central radiant-cut diamond and surrounded by over 240 round- and baguette-cut diamonds," People reports."Ben wanted to learn all about the diamonds and he liked the shape, the radiant cut and geometric, art deco vibe," Lane told the outlet. "It makes a strong statement with all the details and of course it sparkles every way you look at it."
Is the ring still on her finger? Sadly, the couple announced their amicable split in May 2017. "It is with heavy hearts that we announce our decision to go our separate ways," they told People. "We feel fortunate for the time we had together, and will remain friends with much love and respect for one another. We wish nothing but the best for each other, and ask for your support and understanding at this time." In October 2019, Busnhell wed country singer Chris Lane in a secret garden wedding in Nashville, Tennessee.
Kaitlyn Bristowe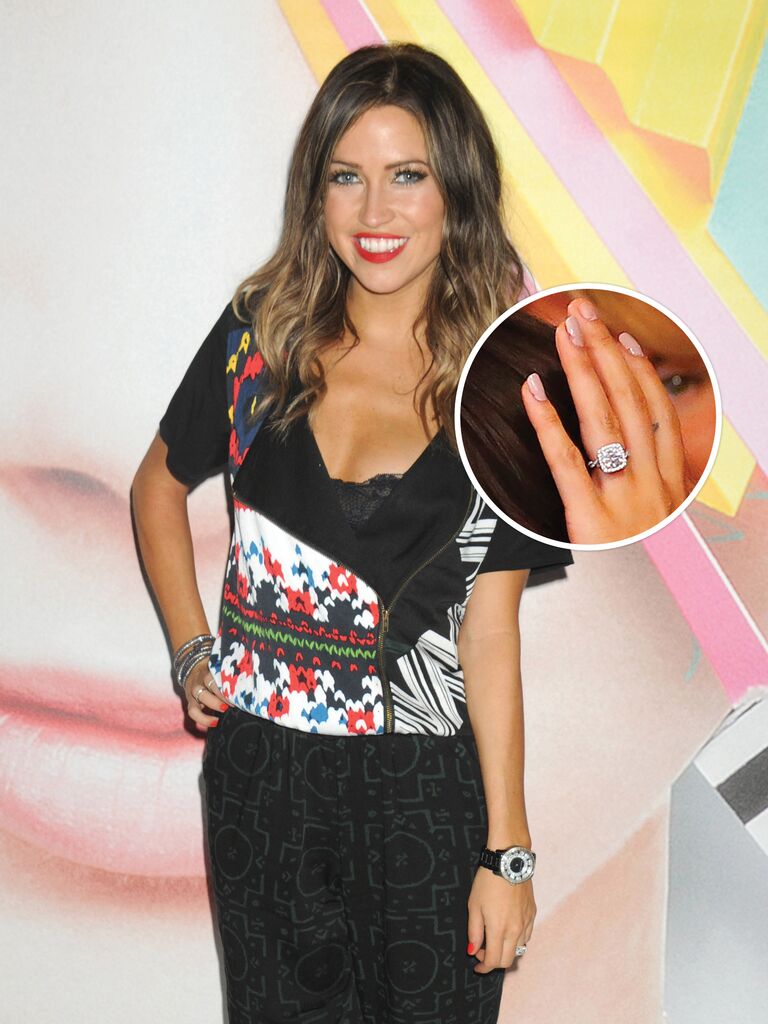 Photo By CORBIS IMAGES, SPLASH NEWS
Whitney Bischoff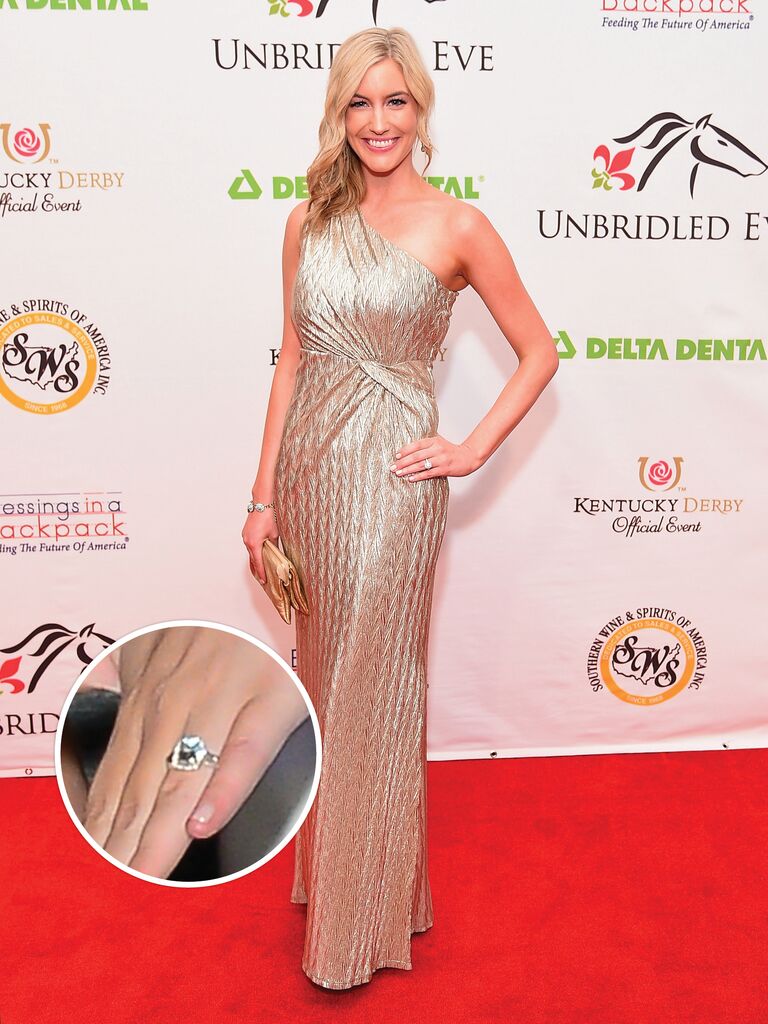 Photo By GETTY IMAGES
The Fiancé: Chris Soules, The Bachelor season 19
The Ring: Soules popped the question in his freezing-cold Iowa barn with a stunning 4-carat emerald-cut Neil Lane engagement ring that has a total of 115 stones on it.
The Ring: Murray chose one of our favorite engagement rings to give to Dorfman—with a gigantic oval-cut diamond and a double diamond halo, this Neil Lane sparkler was a no-brainer.
Is the ring still on her finger? After countless appearances together, the couple called it quits eight months into their engagement. "After several months of being engaged and working on our relationship, we have decided that it's best for both of us to go our separate ways," the couple said in a joint statement given to People. "We are very sad that it has come to this point, but this is what's best for both of us individually. We will continue to be good friends and have nothing but great things to say about each other and wish each other the best."
Catherine Giudici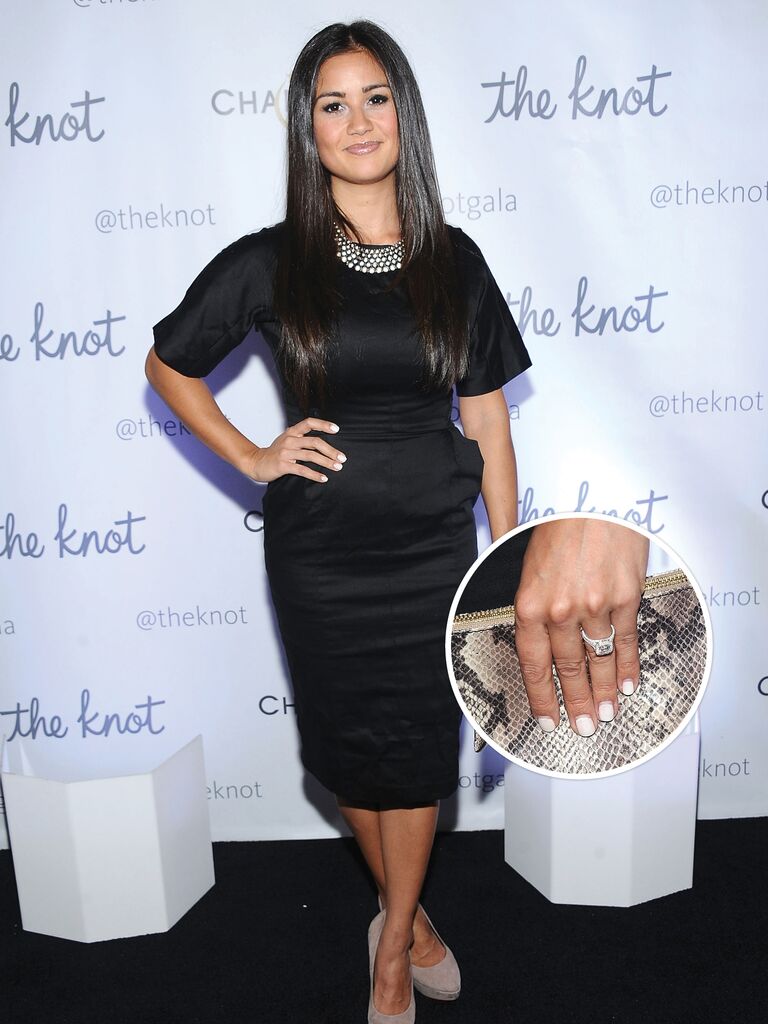 Photo By GETTY IMAGES
The Fiancé: Sean Lowe, The Bachelor season 17
The Ring: When Lowe proposed to Giudici in Thailand, he should have given her a pair of sunglasses as well, since the 3.15-carat Neil Lane engagement ring he chose featured a sparkling cushion-cut diamond surrounded by 164 smaller diamonds.
Is the ring still on her finger? Lowe and Giudici happily tied the knot on live TV on January 26, 2014, in a gorgeous ceremony at the Four Seasons Resort The Biltmore Santa Barbara—planned by celebrity favorite wedding planner Mindy Weiss.
Desiree Hartsock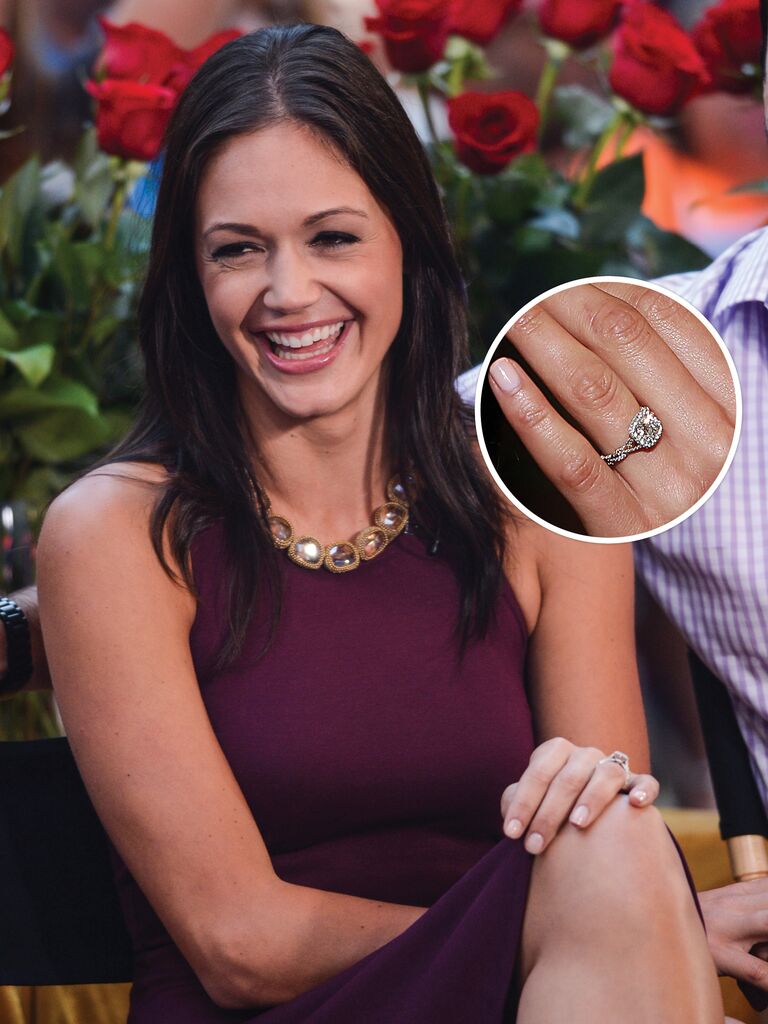 Photo By GETTY IMAGES
The Fiancé: Chris Siegfried, The Bachelorette season nine
The Ring: Siegfried presented Hartsock with an engagement ring that was both modern and classic. More than 200 diamonds dotted the cushion-cut center stone, and an intricately twisted band incorporated both platinum and rose gold. So pretty!
Ali Fedotowsky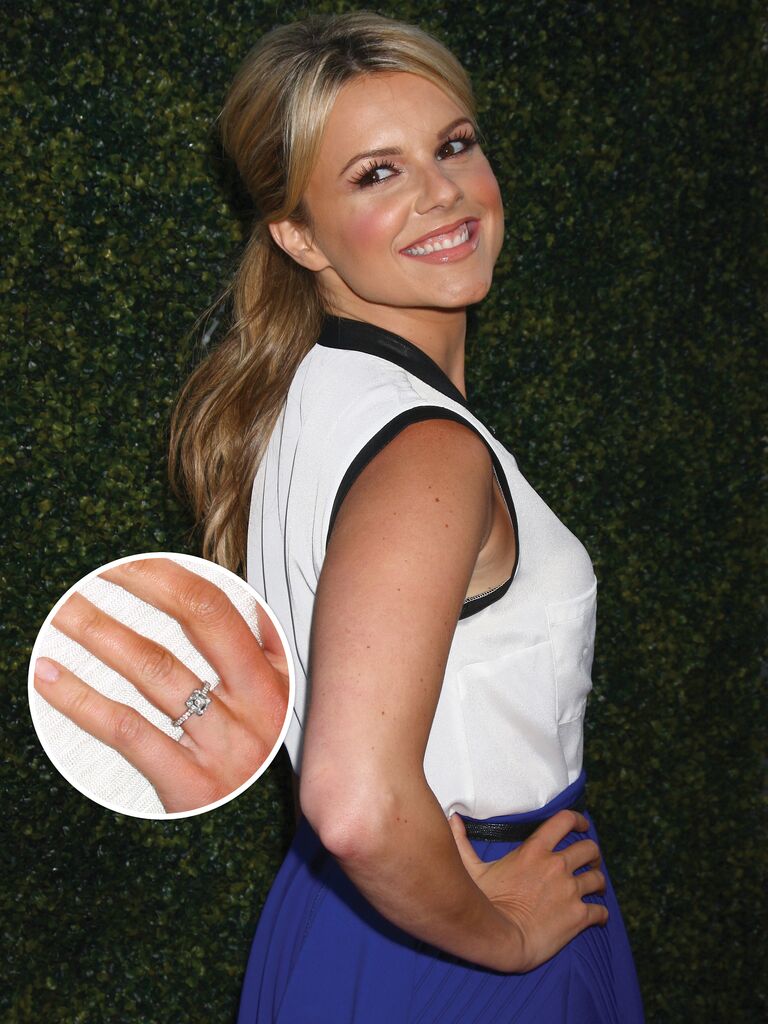 Photo By SHUTTERSTOCK IMAGES
The Fiancé: Roberto Martinez, The Bachelorette season six
The Ring: When Martinez got down on one knee, he gave Fedotowsky a classic asscher-cut diamond set on a beautiful diamond-encrusted band.
Is the ring still on her finger? No—Fedotowksy and Martinez decided to split after being engaged for 18 months. "At the end of the day we both realized we were unhappy more than we were happy," Fedotowksy told People. Now, the TV host is happily married to radio host Kevin Manno.
Trista Rehn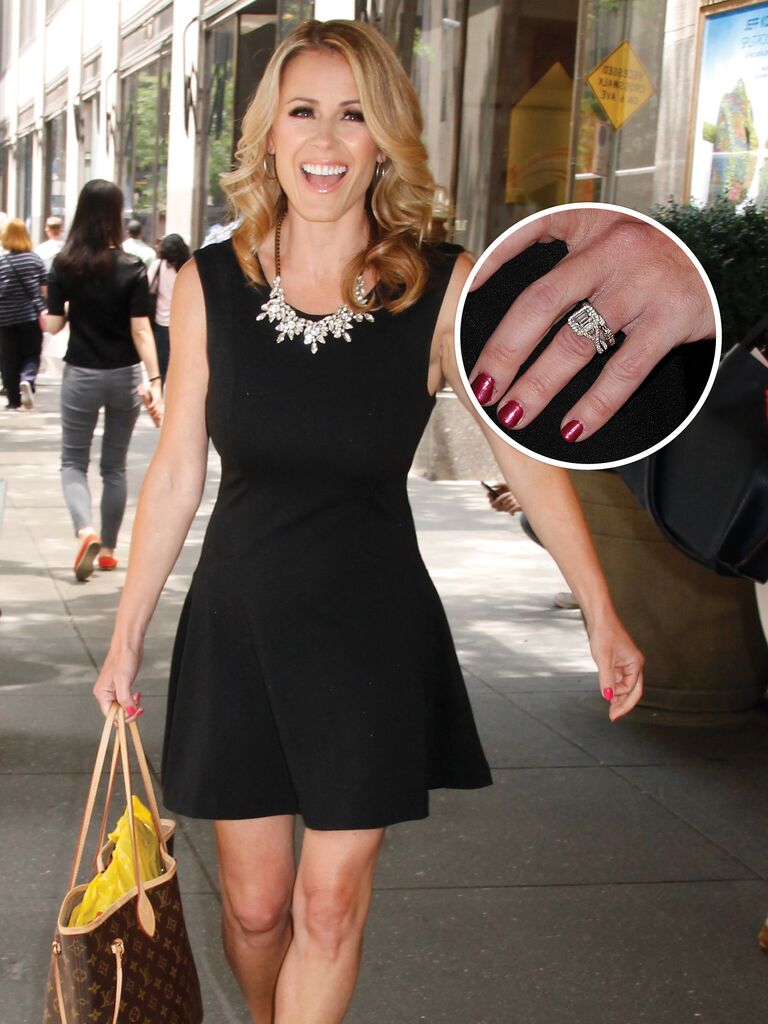 Photo By GETTY IMAGES, SPLASH NEWS
The Fiancé: Ryan Sutter, The Bachelorette season one
The Ring: Even though Rehn was the first Bachelorette to tie the knot, she was also the first to lose her original round-cut engagement ring (but don't worry she, got another). And for her 10-year wedding anniversary vow renewal, Neil Lane upgraded her to a new emerald-cut diamond surrounded by a halo and twisted band with 208 diamonds in total. And since her favorite color is pink, 16 of those diamonds are pink and sit on each side of the center stone.
Is the ring still on her finger? Yes! She and Sutter have been happily married for 12 years after tying the knot on TV (setting the precedent for reality TV weddings) and have two children together, Maxwell and Blakesley.