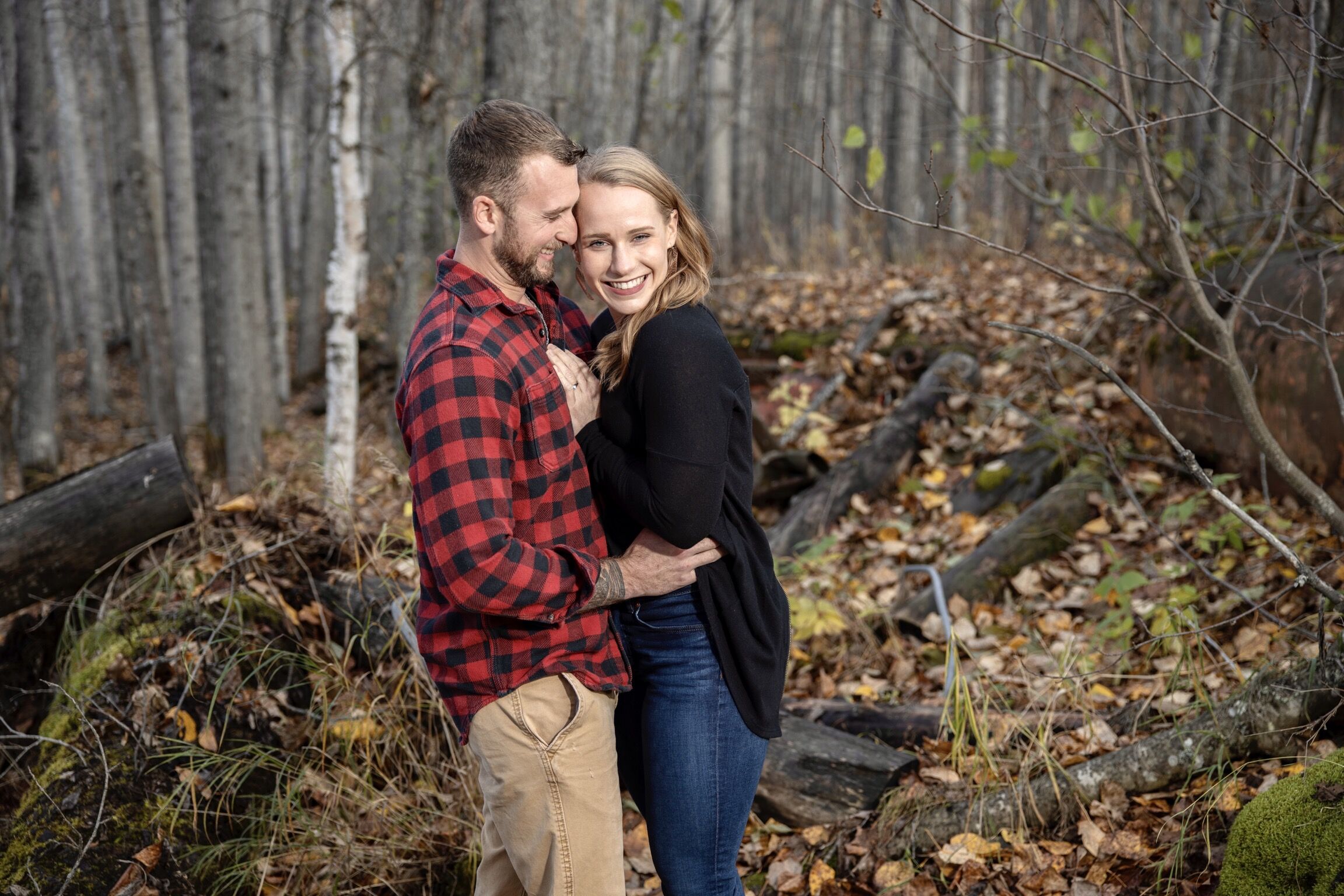 How We Met
A mutual right swipe on Bumble, followed by a phone call then a hike.
How They Asked
Cory had his work cut out for him making this proposal a surprise. We'd already decided to get married and settled on a wedding date, and we'd even gone ring shopping. I knew he was getting a custom piece with his grandmother's diamonds, so I didn't expect to have the ring before the actual wedding. I asked my mom if I could borrow her ring for the ceremony, to which she enthusiastically agreed, so everything was settled. Or so I thought…
I joked with Cory on occasion that my ring finger felt awfully bare, and he'd joke back that he wasn't going to actually ask me to marry him, but we'd just get married regardless.
A few weeks later, he asked to get in one last hike before the snow hit. We wanted to do something short with two of our good friends, so I suggested going back to where we went for our first date. The hike up Mount Baldy in Alaska is relatively short and has breathtaking views, plus the trailhead is only a 15 minute drive from his house. Our friends hadn't been up it yet, so it was the perfect location.
We got up early on a Sunday morning so we could be back in time for football (of course!). At the top of the mountain, the wind was whipping so I wanted to make a run for it. I asked if everyone was ready to leave as I started down the trail, but heard Cory say "Not yet!" from behind me. When I turned, he was already on one knee. I screamed, "WTF?!" as he asked me the most important question of our lives: do I want to marry him? After an enthusiastic yes, a kiss and tears, he produced a silicone ring in my favorite color to use as a placeholder for the real one. As a fitness enthusiast and CrossFit coach, the ring has been the perfect thing.
We're a little over a month away from our wedding date, and while Cory refuses to let me know if the real ring is ready, I couldn't be happier. Falling in love with him was the easiest, most natural thing I've done in my life. Marrying him is less the "next step" in our relationship and more the public declaration of the commitment we've already made to each other.