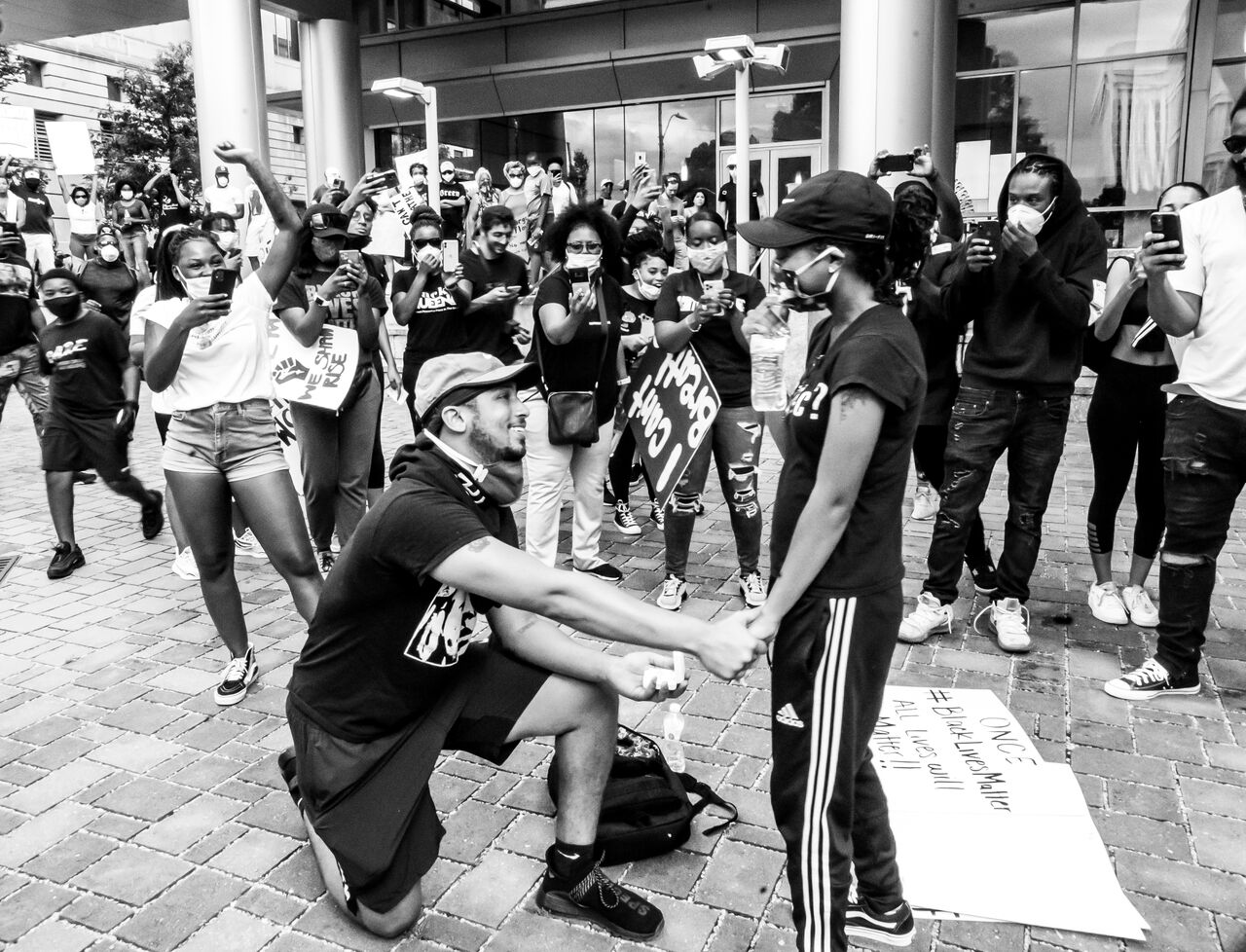 Charles Crouch
Like other protesters, Xavier Young got down on one knee multiple times during a recent Black Lives Matter march through Raleigh, North Carolina. But at one point, the gesture took on different meaning as he was kneeling to propose to his girlfriend Marjorie Alston. Meanwhile, as the engagement was unfolding in real time, photographer Charles Crouch just so happened to be positioned nearby when he noticed the sweet couple sharing a once-in-a-lifetime moment.
"It was simply destiny that I turned around and the brother was on his knee," says Crouch, who runs a visual media agency that showcases issues and tells inspiring stories in the black community. "I was Facebook Live-streaming at the time so I had my phone in one hand, and my camera in the other. I was blessed to be in the right place at the right time."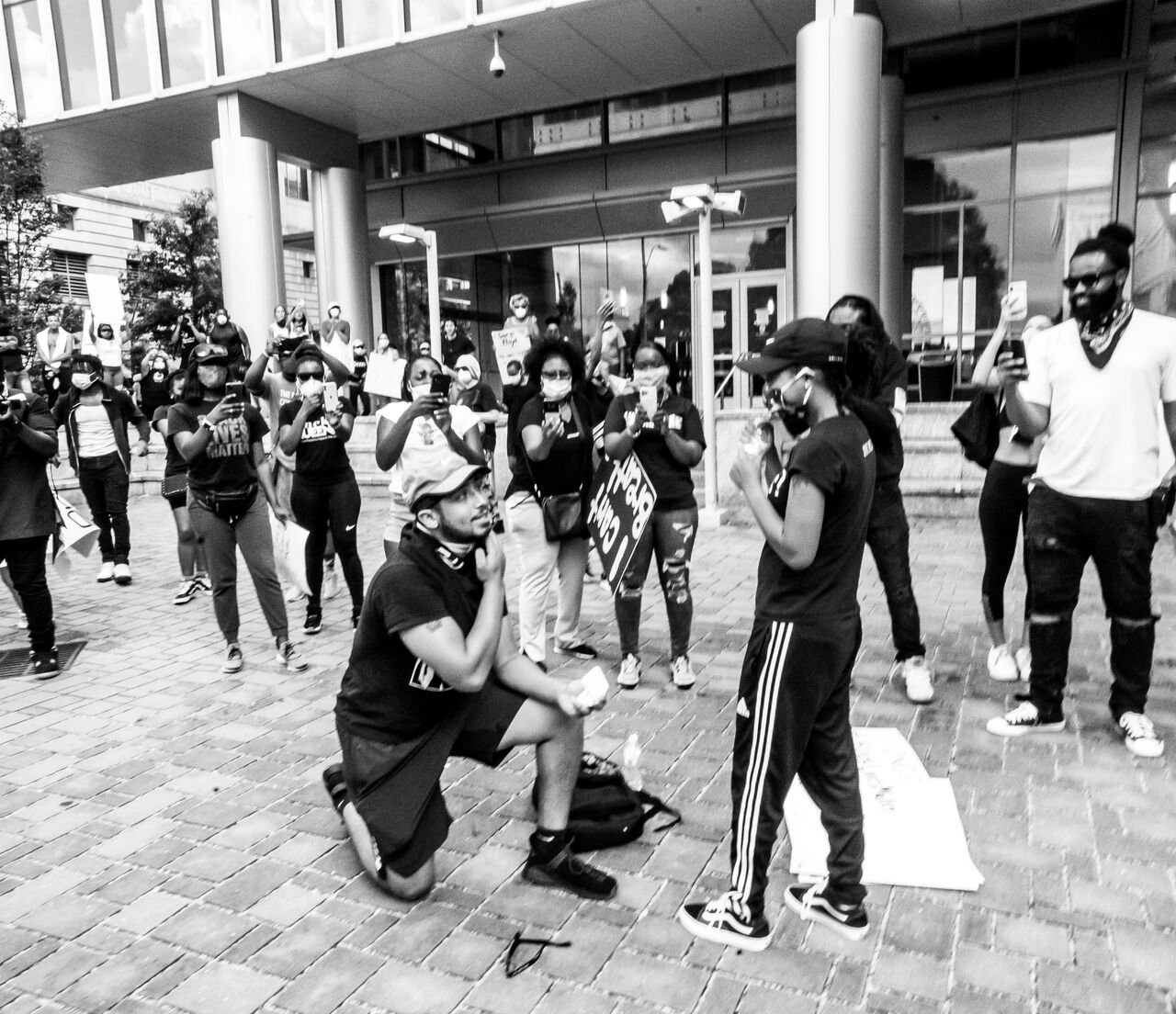 Charles Crouch
After capturing a few images, Crouch eventually shared a slideshow of the emotional moment on Instagram. What he didn't expect was the outpouring of attention to follow from the powerful proposal photos.
"I came home; did a quick edit, and posted them so the world could see a unique expression of love during such a chaotic and painful time," he tells The Knot. "I was [at the protest] to show my support for George Floyd's legacy, and also to voice my righteous indignation. Black men are hurting, anxious, and many times, uncertain about their futures. Xavier took that moment to secure his future. And I was blessed that the Creator placed me there to capture it." (On May 25, 2020, George Floyd died after police officer Derek Chauvin knelt on his neck for 8 minutes and 46 seconds. He was 46. His death has since sparked protests worldwide for the Black Lives Matter movement.)
On Young's end, the proposal nearly didn't happen as he was concerned about his girlfriend's pregnancy. Ultimately, the pair decided to attend the peaceful protest with Young packing a backpack, which included the ring. And while marching with his fellow protesters, he nearly forgot about the all-important piece in his bag. As videos reveal, a crowd grows and cheers around the couple once he drops to one knee and takes Alston's hand. They then cheer as she replies, "yes."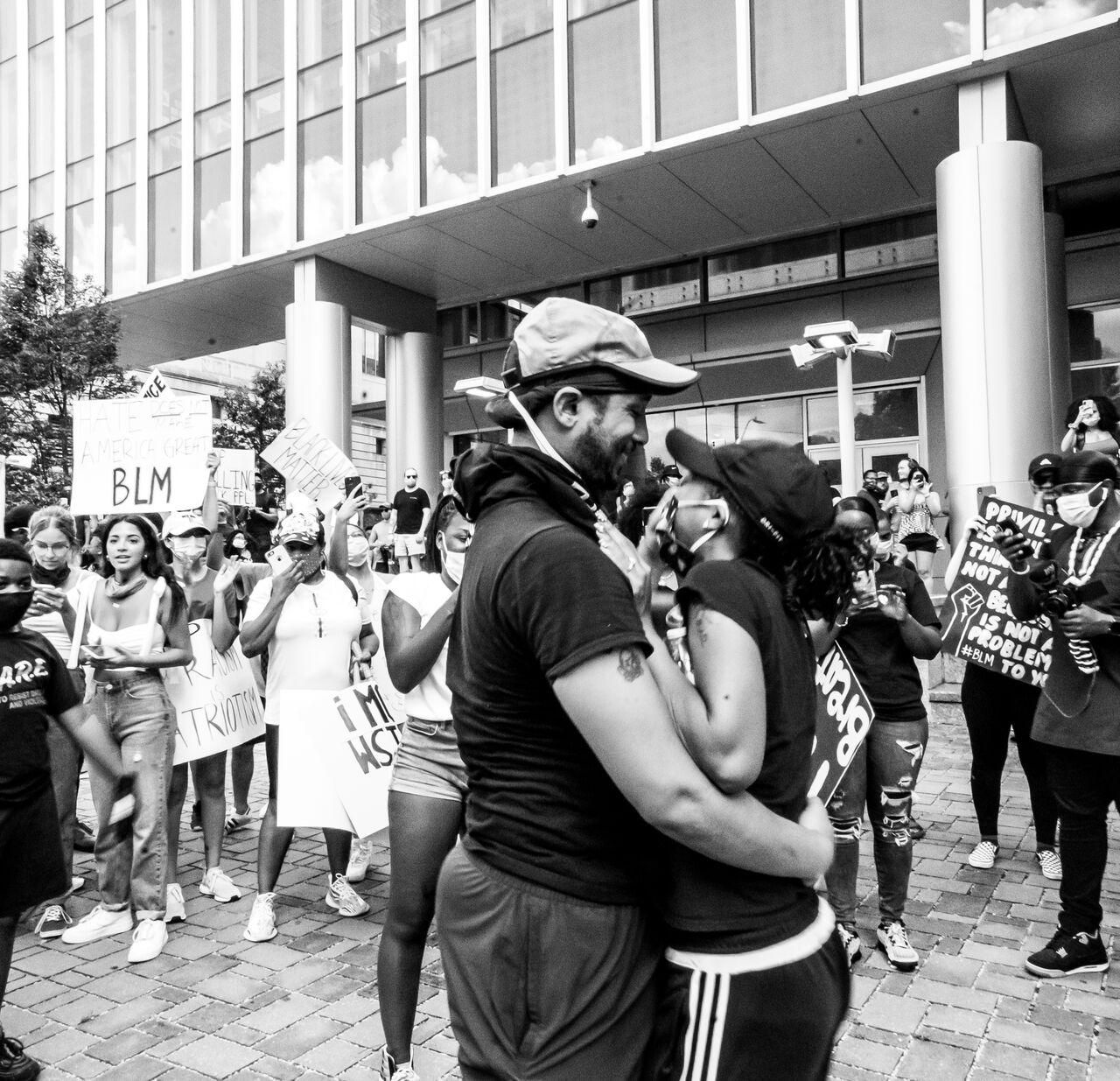 Charles Crouch
"There were so many people yelling and excited to experience the moment I didn't hear what he said," says Crouch. "I was able to congratulate him afterwards. Thereafter, I continued marching with other protesters. These were quite honestly the most beautiful images I have ever captured in my time as a photographer."
A few days later, the two were able to connect. "We've exchanged information and have been in touch since," adds Crouch, whose work can also be seen through the documentary, I'm Good Bro: Unmasking Black Male Depression. "I can only describe the whole incident as divine."
For Crouch, there is a message he wants to convey as his imagery has since been shared across the internet. "If there's anything I want readers to see, it's that love conquers all," he says. "I've seen several comments on social media saying that this was the wrong time to propose. I completely disagree. There is never a bad time to express love, let alone commitment. As black men, we never know when our name will be the next hashtag. With that being said, I choose to believe that Xavier realized that tomorrow is not promised; the only moment that is promised is the present. I applaud him for his expression of love, and wish them a beautiful life."
---