How We Met
Pete and I met the night before Thanksgiving in 2017. It was the first Thanksgiving I hadn't gone home to Georgia and my friend Jess had invited me to spend it with her family in Palo Alto followed by a night out! We ended up at an English pub, The Rose and Crown. After a couple of drinks at the bar, we got up to leave as Pete walked through the door. Being my sassy self, I got up from the bar seat and let him know he could have mine. After hearing him say a few words with his wonderful accent, I made a comment about him being Irish followed by a simple "Cheerio" as I walked out the door without any information about who he was.
Two hours later as the night was wrapping up and as I was waiting for my Uber we met again on the Street. This time he wouldn't mess up and asked for my info. I put him in my phone as Irish Pete of course. I later found out he was English, not Irish – see confession below.. . Either way, I kept him at Irish Pete on my phone which he is still today :)
One thing I love about our story is how it was all meant to be. Pete was only going into the pub to wait on our friend Cam who happened to leave his ID at home that evening (which he never does)! Shoutout to Cam for being forgetful that night! We are so happy our paths crossed again on the Street (well played Mr. Street) and couldn't be more excited to be here two years later.
-Cecily & Pete
#StreetHearts
"Wow, you little bugger" – Cecily Welch, 2nd Text
—
Our first date at Pete's royal engagement bash in our coordinated outfits.
Pete asked me to bring a British treat and sent a recipe request for homemade crumpets! Seriously? I went to Whole Foods and bought English muffins and threw them in a Tupperware lol! Worked like a charm.
How They Asked
Pete's proposal was so creative, so unexpected, so amazing… So Pete.
The day started with a surprise overnight getaway. I was told to pack an overnight bag and no other details. We started driving south of San Francisco and I had a feeling we may be heading towards Big Sur, one of our favorite places to go together. As we drove south I immediately said "are we going to Big Sur?" Pete replied, "why yes we are." At this point, I was thrilled and could only imagine being bundled up in a cozy suite by the fire overlooking the cliffs of Big Sur, with the most incredible views.
But Pete had other plans in mind :) We drove through and stopped at some gorgeous lookout points along the coastal road, took a ton of selfies, pictures and even shared a picnic lunch. The sky was clear and the water turquoise, the most perfect day. We then drove past some common lookouts we'd usually stop at and he kept driving past them and continues into obscurity. I ask him, "where in the world are you taking me – I thought we were staying the night in Big Sur?!" Then to my surprise, he says "well there is something I want to show you over on highway 101." This was very unexpected, since highway 101 was over the deserted mountain range and then about an hour inland, where there is also nothing! I was obviously flustered as Pete had ruined my romantic plans… but seemingly he still had something up his sleeve.
We turned towards the mountain and hit a steep unmaintained dirt road. One that had no guardrails, and was so windy I felt sick on every turn, at one point even lowering my head between my knees to help avoid puking. About 30-45 minutes in I asked, "what is even out here? And how much gas do we have? I really need the restroom!" I was confused and slightly irate… Pete cool as a cucumber just kept quiet and said: "we'll be there soon, Cec." Once we arrived at Highway 101, we approached King City, California… again middle of nowhere town. Fortunately, Pete knows me soo well he says "let's take a bathroom break and grab a drink from Starbucks to help calm you down."
Refreshed but still slightly annoyed, we leave the parking lot where Pete drives into this random suburb – again I'm still trying to figure out where in the world I'm going. We then pass a small airfield and he says, "Cec, look at that airport over there" and I reply, "Amazing, are we going somewhere" and he says "nope, just wanted to show you…" I'm trying not to freak out at this point as he turns into a neighborhood and parks the car. I'm shocked and still flustered until I look up outside the car window and see the street sign. It says Cecily St. Remember, Pete's last name is Street. I felt an adrenaline rush through my entire body, I could barely speak. I knew what was happening. As I tried to hobble out of the car completely shocked, Pete grabs me by the hand and walks me towards the middle of the Street. He gets down on one knee in front of the street sign, says the most beautiful words and asked me to be his Cecily Street. Of course, I said YES and as we celebrated I finally understood that long and crazy drive that made our journey so SWEET!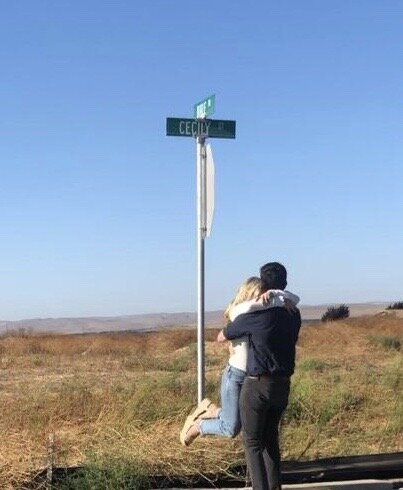 Later I found out that this Cecily Street was only one of two Cecily streets in the entire Country one of which happened to be two hours from where I live.
And more importantly I found out Pete had asked my Pawpaw's permission for my hand just three days before he passed. My nanny said PawPaw was smiling ear to ear and this meant everything to me. I'm so grateful he was able to know the man I'd spend my life with. I'm ever more blessed to have this wonderful man as my future husband!!
#StreetHearts