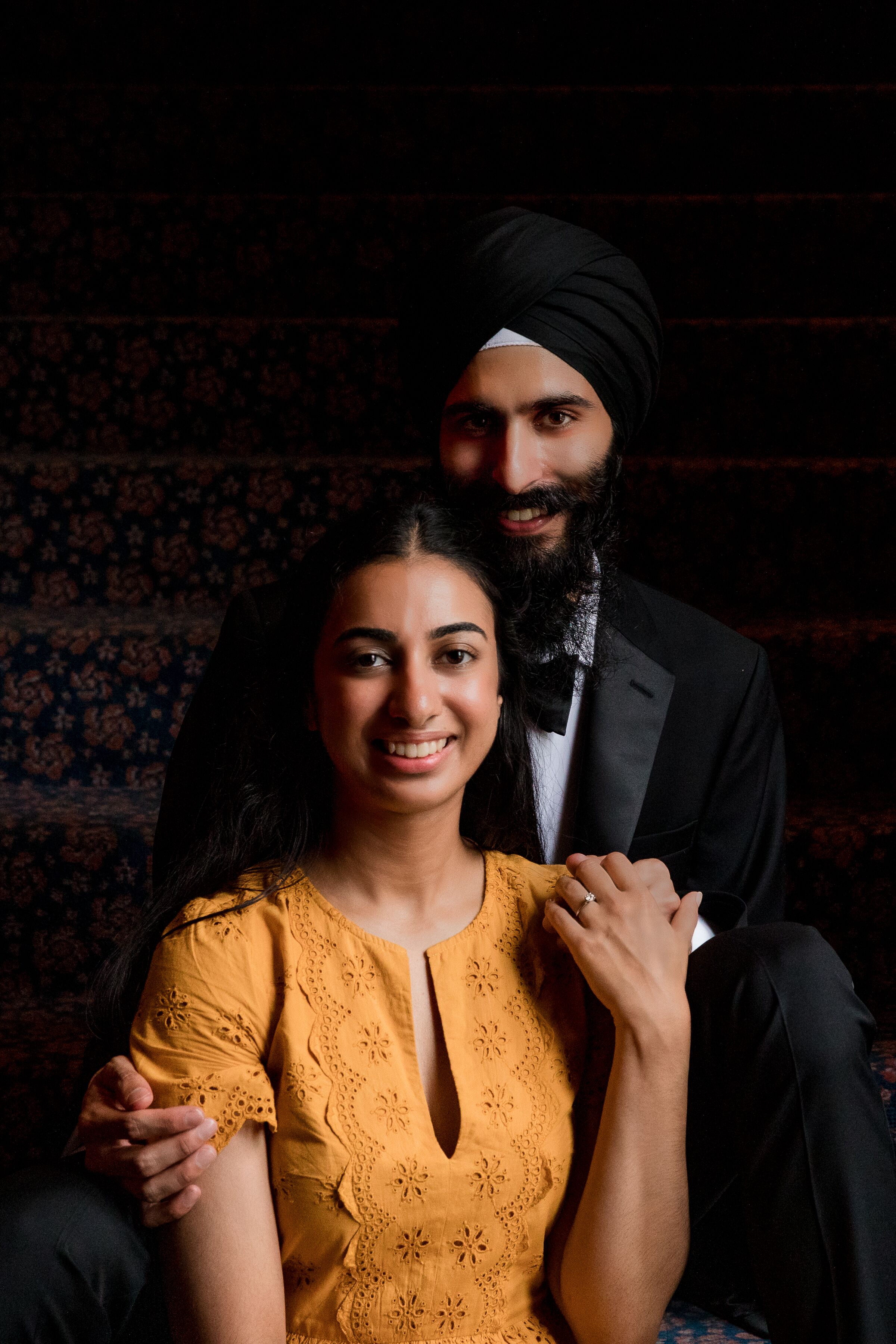 How We Met
In 2013, Prateek was applying to Physics Masters programs while Benita was finishing up her first year at the University of Chicago as a pre-med student. Unbeknownst to them… their paths would soon cross when Prateek accepted his offer to the University of Chicago.
Benita first laid eyes on Prateek at an activities fair from afar. She thought to herself, "Another Sikh at UChicago! How exciting!" Let's be real, don't we all smile a little inside when we see a fellow Sikh in our area?
A few weeks had passed and Prateek, an avid dancer was looking to join the bhangra team. Little did he know, he would soon find his jodi (partner)! At that time, Benita, a trained dancer was already a part of the bhangra team. This is where the sparks flew! The moment Prateek saw Benita during a practice, he immediately was awestruck by her beauty.
Prateek mustered up the courage to talk with Benita and as the year passed, they eventually became better friends and their friendship blossomed into a relationship. They soon became inseparable. While living in Chicago, the options were limitless with delicious food and activities! They were hitting up almost every restaurant on date nights. They loved eating sushi at Kikuya, attending Chicago Symphony Orchestra concerts, and dancing at bhangra competitions!
How They Asked
Prateek and Benita have been going to orchestra concerts since their time in Chicago. Benita studied piano in college and would take Prateek to Chicago and Cleveland Symphony Orchestra concerts whenever they had the chance.
For the proposal, Prateek started learning how to play the piano in 2017 whilst Benita was none the wiser. He composed his own version of Ho Gaya Pyar, a song that Prateek and Benita loved to sing in the car, and Waltz in A Minor, a composition by Chopin that Benita learned in her piano class. With the encouragement of his cousins, he started taking singing lessons for an added surprise.
Fast forward to June 2019, Cleveland, where Jacky, one of Benita's friends, so happened to lose her AirPods in the Cleveland Symphony Orchestra Hall. Benita was convinced that these AirPods were a lost cause and on June 20th was heading to dinner with her friends, Carol and Jacky. On the way to dinner, Jacky received a call from the Hall that she could search for her AirPods and so they turned the car around. In the Hall, Benita was hyper-focused on finding the AirPods but when looking up at the stage she found Prateek in a tuxedo next to a piano. Prateek played and sang his composition that he put together himself. He asked Benita to get married and she couldn't say yes quick enough!