How We Met
Their story began in March of 2015. Dustin and Bailey were both in New London for St. Patrick's Day with their friends. Bailey was also with her sister, Taylor, who happened to be friends with Dustin. Their groups met up with each other and when everyone went to the restroom, Dustin and Bailey were left to talk to each other. Once everyone came back, Bailey departed to meet up with some other friends and while her conversation with Dustin was brief, Dustin recalls telling his friend, "Bailey seems like a cool girl."
They continued on with life until July 2015, where they met again, this time at Bradford Beach in Milwaukee. Bailey was with her younger sister Taylor, and friends and Dustin with his friends. After Bailey's friends left, Bailey stuck around for only an hour, until she left with Taylor for dinner with their other sister, Alissa. While it was brief, it was enough time for Bailey and Dustin to talk again, have a random photoshoot of the two of them, and to forever remember this day.
How They Asked
The plan for the proposal started a few months prior to the actual date. Dustin told Bailey he wanted to take her on a getaway to a surprise location as part of her Birthday and Anniversary present. Bailey insisted on knowing where they would be going so she could go shopping for a few new outfits, you know, just in case. After much hesitation, Dustin agreed to tell her the location of the trip, on her actual birthday. On the morning of Bailey's birthday, she was taken to Dustin's office and clicked through an OneNote presentation Dustin had created to outline all of the different activities, restaurants, and happy hours they could try on their trip. He picked Chicago, to do all things Christmas (Bailey's dream!).
Three weeks later, they were off to Chicago! They decided to leave on a Thursday afternoon and come back Saturday night. Bailey got stuck at work a bit later than planned, which meant they were about 30 minutes late to get on the road. Dustin mentioned several times that they were "behind schedule," but to Bailey's knowledge, there wasn't supposed to be a schedule to follow other than to grab drinks, dinner, and go see the Christmas lights at Millennium Park. Dustin just told her "happy hours don't last all night!"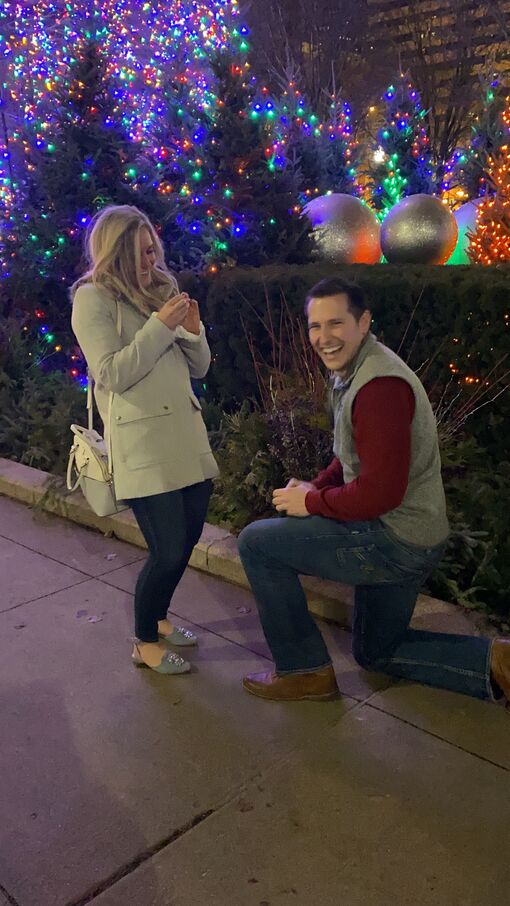 They arrived at the hotel, right across from the Navy Pier. While checking in, they were asked what they were celebrating. Dustin told them it was recently Bailey's birthday. She wished her a Happy Birthday and gave them keys to the 18th floor. Once to the room, Bailey wanted to get ready for the night. Historically, Dustin is pretty patient; however, this time, he told Bailey several times again to "hurry up, happy hours don't last all night!" Shortly thereafter, Bailey was ready, and they were off.
They went to the first happy hour and then a second. Bailey was having a grand ole time and told Dustin she thought they should just skip the lights and go see them on Friday. Dustin had firm opinions that evening and told her that he would be calling an Uber to drive them because he really wanted to see the lights that night. Bailey knew it was only a mile up the road and suggested the bar hop their way to the lights. Dustin was persistent on getting there as soon as possible and called the Uber.
Bailey had a good idea this weekend was going to be something special and tried to challenge him to see if she could get any "hints" that a proposal might be happening but to no avail.
Uber came and they headed to Millennium Park. They walked to the giant tree and Dustin said: "well, I suppose this is all." They walked by the ice rink and Bailey suggested they go skating. Dustin again was firm in his opinions and said: "no, not tonight." Bailey thought this was strange as he's normally hesitant but open to trying most of the great ideas Bailey has. So back to the tree, they walked. Bailey waited for Dustin to ask a stranger to take a picture of them as she thought this would be the hint she was waiting for. But Dustin didn't budge, so Bailey caved and asked a stranger to take a picture of them. As the woman was handing the phone back, Dustin told her he had one more "idea" for a picture. And with that, he said a lot of very sweet things that Bailey doesn't remember and got down on his knee. Bailey, as excited as could be, accepted the ring by taking it, putting it on her own finger, and saying "thank you!" Everyone clapped, Bailey cried, and Dustin picked Bailey up for a hug.
Bailey and Dustin then had to get back to the hotel for "lots of surprises" as Dustin said. Right outside of the park was a man on a bicycle with a trailer decked out with tons of Christmas lights and blasting Christmas music. The two climbed in and off they went on their less than one mile, 60 dollar carriage ride to the hotel.
Upon arrival, Dustin told Bailey he had to go back to the front desk. He walked up and said, "I'm Dustin." The woman was excited and ran to grab her manager. She came out and they started congratulating Bailey, who was still teary-eyed and now very confused. Bailey and Dustin got in the elevator and Dustin pushed the button for the 30th floor. Bailey, oblivious to the exchanging of keys that had happened at the front desk, reminded Dustin they were on the 18th floor. He just shrugged and said, "I don't know this key says room 3006". They got to the top of the hotel and Dustin led them to their new room. He opened the door and Bailey walked into the biggest suite she'd ever seen. It was completed decorated with a Christmas tree (just for her!), special ornaments, champagne, a bottle of whiskey for Dustin, framed pictures from their years together, and rose petals all over. The hotel staff had even moved all of their belongings up to the new room.
Bailey and Dustin spent the rest of their night calling friends, family, toasting champagne, and eating room service pizza until the wee hours of the morning.