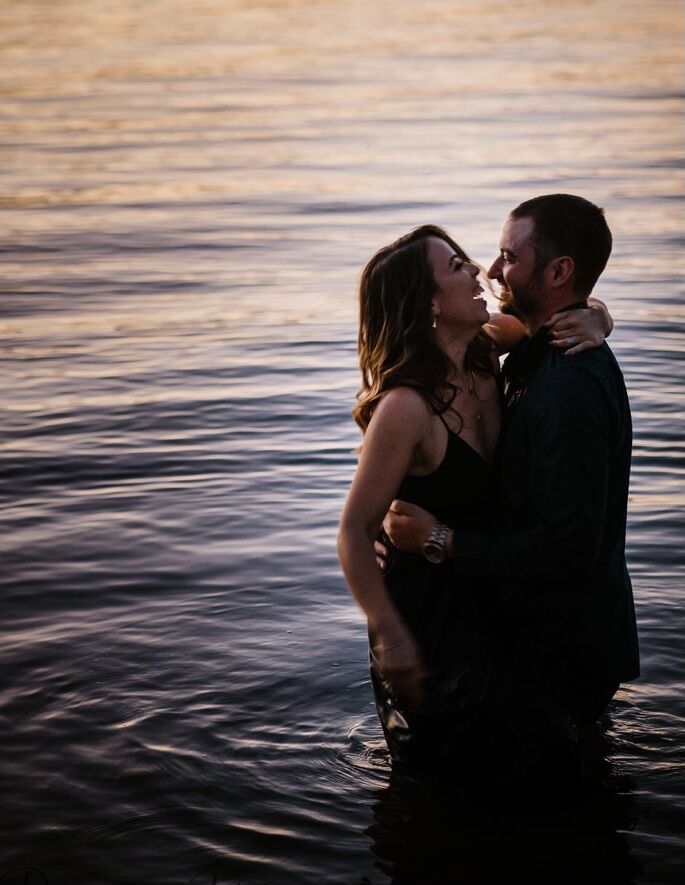 How We Met
Ashley had just moved back to the Central Valley after being away due to college and her career, when she reconnected with an old high school friend, Mike Kim. Mike invited Ashley to come out for his birthday that weekend. One of the friends he invited was Drew, who initially completely ignored Ashley, (which he still denies to this day).
Ashley was a bit more then tipsy and Drew was his groups sober DD, which made for a very interesting first impression. Needless to say Ashley was goofy and dorky and Drew was fairly entertained by her antics. The night came to a close and Ashley thought that would be their last interaction.
That is, until she accidentally stalked him to his dads 50th birthday party the following weekend and their sober roles were reversed. After 6 weeks of texting all day, everyday, unless he was off in the mountains, they finally went on their first date – a Halloween party. They have been pretty inseparable ever since.
How They Asked
They went on a family camping trip to Stanislaus National Forest, with just them and their pups. Once they had finished setting up camp they decided to take the dogs on a hike by the creek where they found an amazing natural beach. After a while Drew was kneeling down on one side of the beach and called Ashley over to look at something. Just as Ashley was about to get to him, Loki their pup, started barking at a random lady and her dog, that had popped up out of nowhere. As Ashley was apologizing for their poorly mannered pup, Drew was still kneeling down and fumbling around, just a bit panicked.
He then stood up and started walking away, Ashley asked, "What was it, babe?" He replied, "Nothing, nothing, it was a bug and it's gone!" Leaving Ashley looking at the spot thinking, "Well that was weird…"
"Let's walk this way!" Drew shouted as Ashley followed him up along the creek. Drew was hiking so fast, and was so far ahead of Ashley that she lost sight of him, which is not typical of him.
Just as Ashley rounded the last spot she had seen him at, she saw Drew already down on one knee, saying beautiful romantic things, Ashley was balling her eyes out and really only heard a buzzing noise from all the excitement, as he said, "Will you – " She couldn't wait anymore and tackled him saying, "OF COURSE!" Before he could get the rest of it out, Drew said "- marry me? Wait, wait babe there's a ring!!" as their dogs jumped and got tangled up with them.
Their proposal story is a perfect portrayal of who they are: goofy, fun loving, used to hiccups that they quickly recover from and incredibly in love.