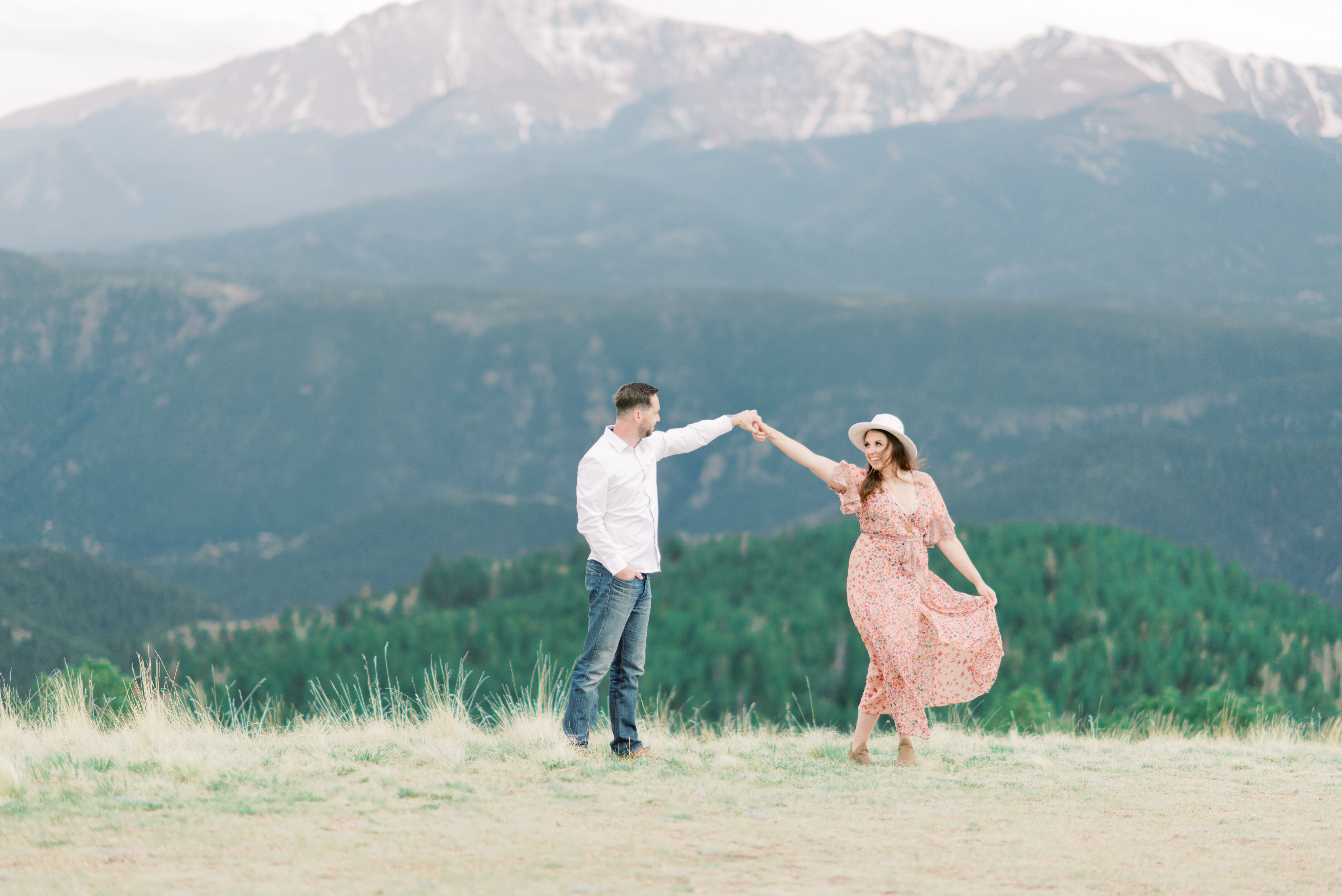 How We Met
At a coffee shop in Colorado Springs.
How They Asked
One weekend in December, Jordan and I headed North to Denver for the 1940's Ball. This year, the theme happened to be "White Christmas," which is one of my favorite Christmas movies. I had been hoping to make it to this event for years, but it just never worked out with my work schedule. This time around, Jordan encouraged me to get us tickets even though I worked that day and ensured me we would make it there in time to really enjoy it.
Despite a little traffic and a short hike through downtown Denver, we made it to our hotel room and excitedly dressed in our makeshift (but awesome) 1940s attire. I had repurposed a beautiful hand-me-down beaded dress from my mom, paired with Victory curls and heels into an outfit I couldn't wait to wear. Jordan had a wonderful black suit complete with slicked hair and suspenders.
The ball was everything that I had imagined and hosted a significantly larger number of people than I had considered. We waited in line for almost an hour for the photo-booth staged as the Vermont Inn from the movie. During this time, Jordan left to visit the coat check (or so I thought) and ended up taking about 20 min to get back to me. I was preoccupied during this time, by the creativity and DEDICATION that so many of the patrons of this ball had for their individual costumes. It truly felt like we had stepped back in time to a post-war America. The music in BOTH ballrooms was live, and they intermittently took breaks in entertainment to allow for Swing dancing lessons. By the time Jordan returned to me, we had made it to the front of the line for the photo-booth, had our photo taken, and then proceeded to explore the rest of the event.
We danced, we took a dance lesson, had a few drinks, and posed with a few historical backdrops. By midnight, my feet were killing me from all of the dancing, but I wasn't ready to leave yet. Jordan kept asking me, "Aren't you ready to head back- your feet must really hurt…," I was being stubborn and committed to extracting as much time out of the event as I could. Finally, Jordan said; "If I stay up any longer, I will have a hard time getting up for work on Monday." I took that as a sign that he was not having fun anymore- which I didn't understand because we WERE having fun…..begrudgingly we left (well I hobbled on my bleeding, stubborn feet) back to the hotel.
Halfway back, Jordan asked if I had a room key, which made me a little suspicious as I knew for a fact that he had had a room key for himself when we initially left the room. When we finally made it to the room, I dug out my key and opened the door. However, the state in which we had left the room prior to the ball was vastly inconsistent with what I was saw. I don't think my eyes really took it all in before I slammed the door, turned to Jordan, and said, "OMG, how did I open the wrong door, I just walked into someone else's room!" He humored me, checked the room number, and said, "No, this is our room." I looked again to finally realize that what I had not comprehended were the red and white rose petals on the floor, some neatly arranged in a heart, sitting in front of a bottle of champagne. Jordan, patiently reading my responses, carefully stepped around the rose petals to the chair in the back of the room. "Open the Champagne," he directed as I stared back at him a little befuddled but could only ask "who did this?"- "I work in news," he responded, "I have connections." HA—I was struggling to unwire the top of the bottle when he took it from me and set it back on the table. "Ashlee…." He said as he was moving to one knee. It all happened at once, but somewhere in the next half-second, I was on my knees too, and Jordan had opened the small black box in his hands to reveal a beautiful, shining, stunning ring- I kissed him, said— "OMG you have to say the words!"
"Will you marry me?" he asked.
And, as you are reading this today, you know what I said.
It Turns out-it was my little brother and Groomsman, Nicholas, who decorated the room for Jordan. He had driven up behind us, and together with Jordan, facilitated a (these are his words, not mine) "Oceans 11" level key card hand-off and proceeded to do a fantastic job setting the stage.
Thank you for reading this. We are so blessed to have found each other and know that we would not be the same people we are today without each and every wonderful person in our lives who has provided love, support, and friendship over the years.