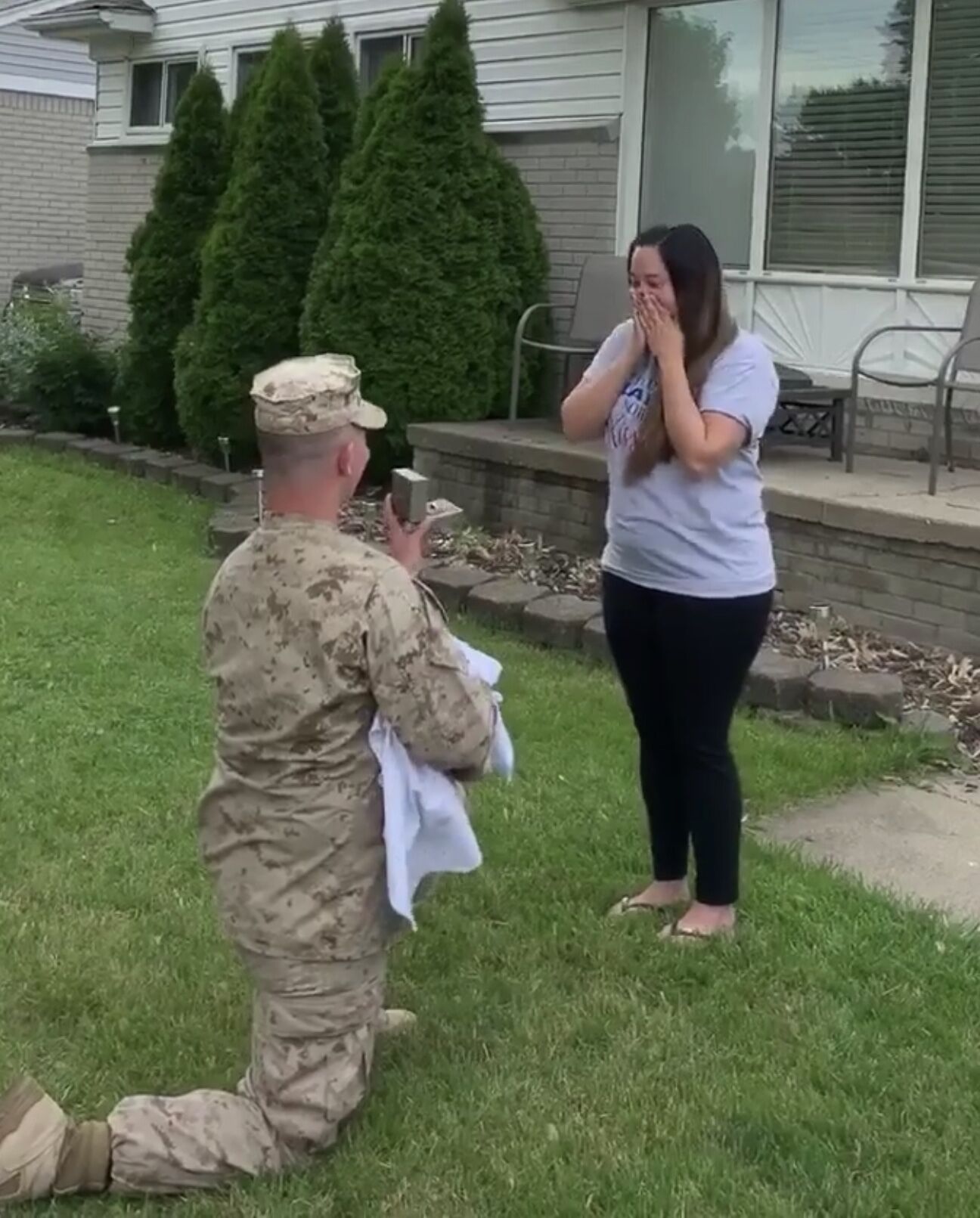 How We Met
Through a mutual friend.
How They Asked
He was expected home that day from his annual two-week training with the Marine Corps. I had put our new baby boy in a special onesie that read "out of my way, I get my daddy back today". I had put myself together and wiped away the new mom exhaustion to welcome home our guy with a fresh face, combed hair, and a shirt reading welcome home Marine, now kiss me. I thought I was the one with the surprise with our outfits. Little did I know…
He usually always calls to tell me he's close but this time was different. No call had come, I was constantly checking my phone to see if there was a missed call or text but nothing. Morning turned into afternoon and I was starting to get antsy. All of a sudden I look out the window and I see him, walking up the front steps with a bouquet of flowers (he brings me home flowers every time he returns home from a drill/training) I scoop up our son so happy to finally have him home. He walks in the door and we all but jump into his arms. He gives him our son who he hasn't seen in two weeks and takes a mental picture (new mom..emotions are at an all-time high) he's got our son in his arms and hugs me tight. He pulls away and says to me " I brought you home a gift but you have to come outside to the car to get it." I look at him confused as I already have my beautiful bouquet of flowers but shrug and say " okay, let's go".
He tells me I have to close my eyes and leads me down the front steps. He makes sure I can't see anything and I promise not to peek. I stand there eyes closed, anticipation building as I have no clue what it could be. Finally, he says to me "okay…open your eyes. I open them and there in front of me is the man that I love, father of our son down on one knee with our son cradled in one hand and a ring in the other. His speech was beautiful and I of course said yes. He slid the ring on my finger and began to stand up. All of a sudden I see my family and his get out of his jeep. They had been there the whole time, my sister had even recorded it. I was so shocked and happy, overwhelmed with emotion.
This man had been my rock through a rather difficult pregnancy which ended in 10 weeks of bed rest, having our son 2 months early, and a 3-week stay in the NICU. Our son came home healthy and to this day I know I got through it all because I had such a supportive man by my side. I can't wait to marry him.