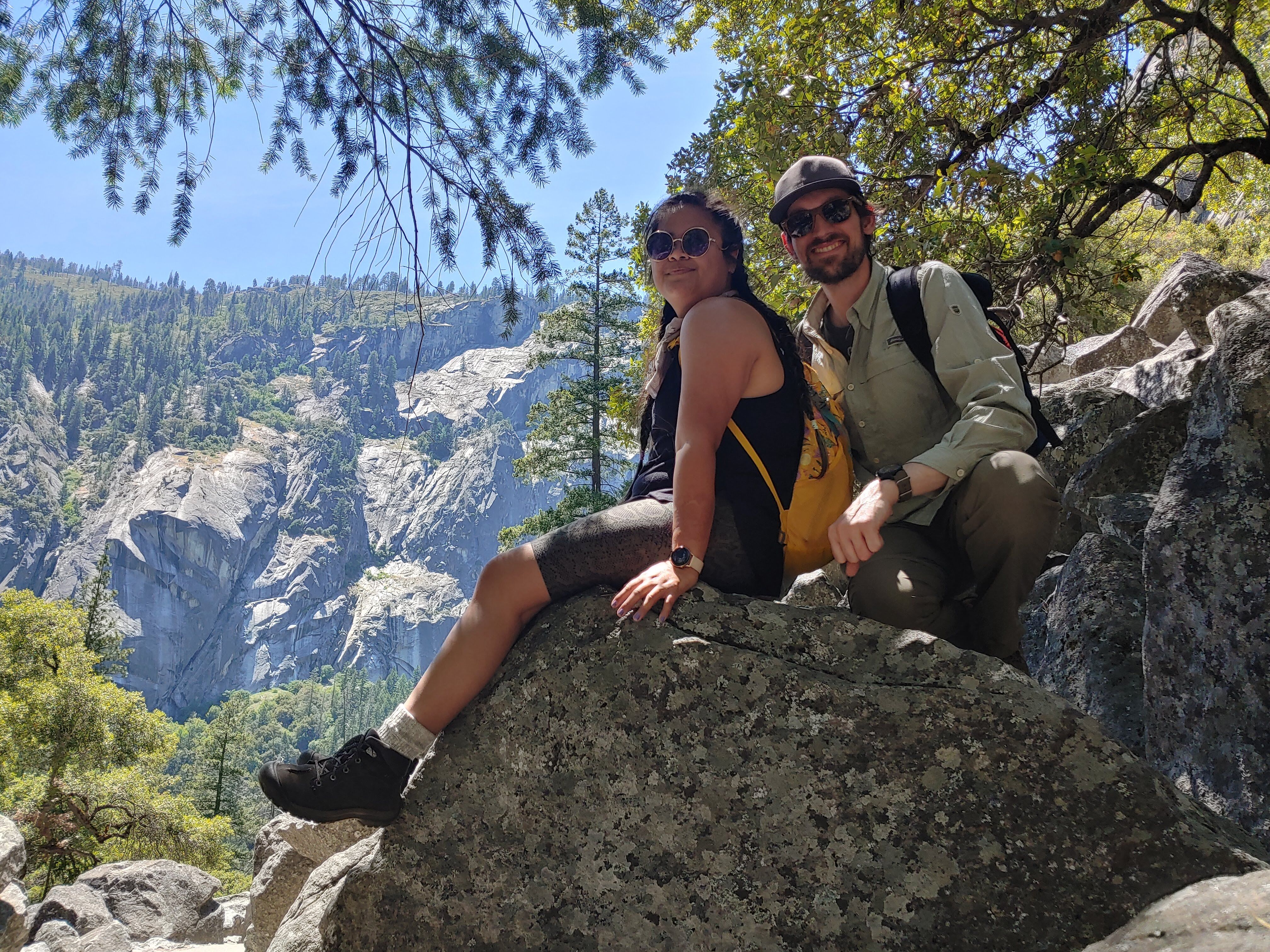 How We Met
It all started in 2011 when we were….. dating other people. We met at the University of Oregon's School of Music and Dance and genuine friendship started between us and thus we became a "will they?" or "won't they?" love story.
Throughout the years we went on climbing trips, shared our favorite music albums, and pulled pranks on each other's Facebook walls at the school's computer labs. But most importantly, we became emotional supports for one another. I helped Sean draft break-up letters to his ex-girlfriends and Sean gave me his bed when she got blackout drunk to forget ex-boyfriends. He of course either slept on the couch or in arm braces that deterred any resemblance of cuddling.
It wasn't until 2015 when we were both single at the same time! There was one problem. I was living in Portland and Sean was in Eugene, 108 miles away from each other. Sean was convinced I was the one so every weekend he'd rush up to Portland to spend the weekend with me and drove back down by Monday. With each visit it was clear that we were completely mad for eachother so within 6 short months of dating, Sean moved to Portland!
Some of our favorite things that we used to do as friends continued as we built their our life together. Things like, camping out with breakfast burritos for REI garage sales, camping in general, going to live concerts, and saying yes to whatever adventures presents themselves.
After 5 years together we've traveled the world, created a home together, raised puppies together, and now having been in quarantine for almost a year together, couldn't imagine spending our lives with anybody else.
How They Asked
In early March just before quarantine restrictions were to take place in Oregon, Sean had planned an entire Spring break in the town where they shared their first kiss – Bend, OR. He had rented an Airbnb overlooking a farm with a hot tub, planned couples massages, and a hike around Smith Rock National Park. The romantic in him had selected where they were going to eat and considered every little detail to make this proposal special. Unfortunately, just before they started packing up for their adventure, coronavirus was taking a toll on the world and the safest thing to do was to stay home. Sean and Alyssa hope to take this vacation sometime in the future when the world isn't as fragile.
Fast forward to June and Alyssa had secured backpacking permits at Yosemite National Park. They were joined by two of their best friends Andy & Chelsea for a bear filled, poop scooping adventure in the Yosemite Wilderness. The crowds were sparse and the mosquitos plentiful and it was the perfect place to get engaged. On the last day in Yosemite, Sean desperately wanted to hike to Vernal Falls. With every steep incline, Alyssa knew the proposal was about to come. They got to a bridge overlooking the foot of the falls, he got down on one knee and while Alyssa expected it, she was in complete shock! She has no memory of what happened except for the feeling of intense love for Sean. Thankful their friends were there to capture the proposal, the couple regrouped on some rocks off the trail, caught their breaths, and continued their hike as an engaged couple.