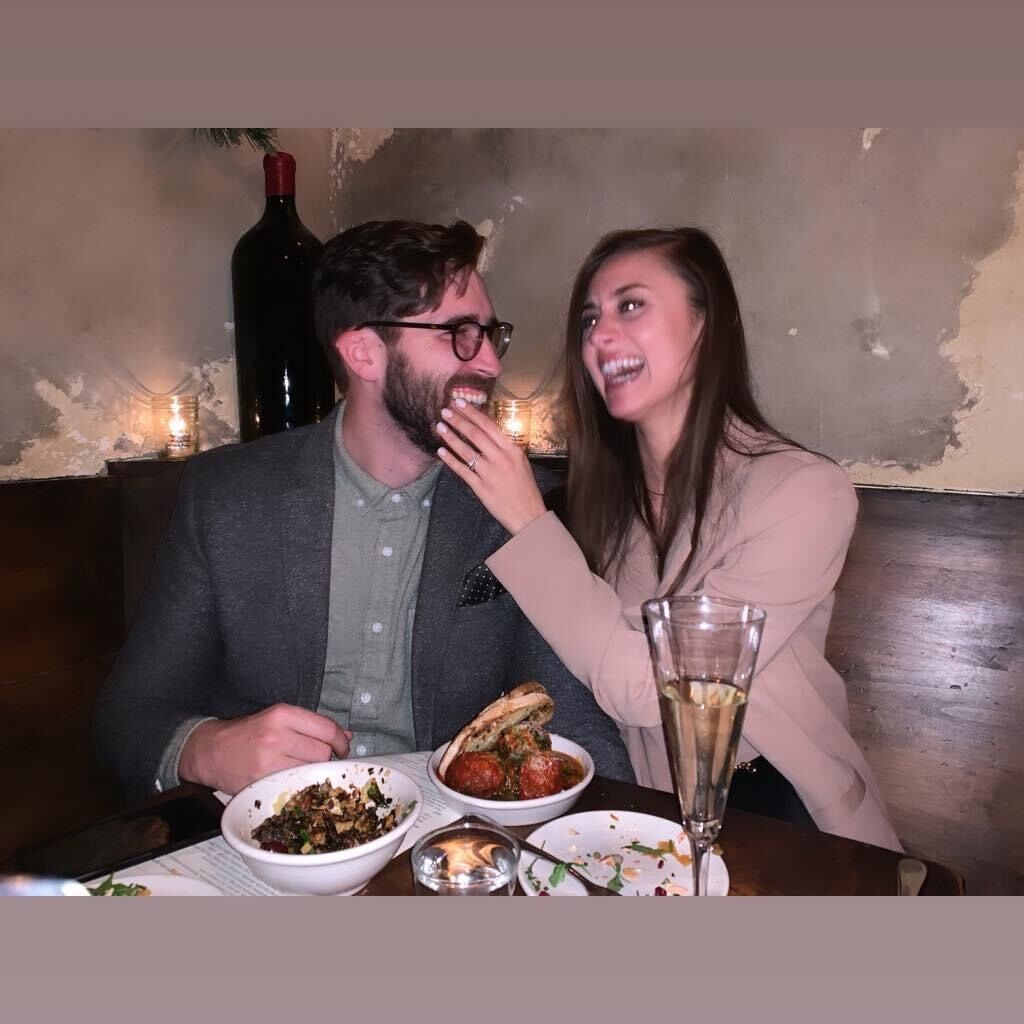 How We Met
While I was out for a friend's birthday. He was a bartender at the time. His coworker and friend stopped me and told me that he didn't know what my situation was but that his friend at the outdoor bar had seen me. One time before and said, "I could fall in love with that girl" and if I wasn't involved I should talk to him because he's a really good guy. Even in my slightly drunken state, I was drawn to the uniqueness and vulnerability of that statement. It took some time to get me to agree to an actual date as I was in a new phase of self-discovery but eventually we went out and it was a really great date. We cut through the usual small talk and connected on a deeper level right away.
How They Asked
A couple of weeks before Christmas my then-boyfriend had asked me if I wanted to have a date night at our favorite bar (we had our very first date there) a day or two before the holidays. I was excited because we both know how crazy the holidays can get and I thought it was sweet that he wanted to carve out some time for just the two of us before all of that. When we arrived, the hostess walked us through the restaurant and started to walk past the regular seating area. This place has a hidden room beyond the kitchen. She led us there and when I opened the door there were candles, champagne and a note with my name on it waiting for me. My then-boyfriend had enlisted the help of my mom and best friend to help make the room pretty and deliver his note earlier that day.
I looked back at him and he said: "I don't know what that is but you should probably open it." My guy is a writer and his words made me cry. I turned around and kissed him and said yes before he could even ask the words out loud. We sat down and both realized we had forgotten about the ring and I said "wait can I see the ring and wear it" We then enjoyed a lovely dinner and popped the champagne. I asked him who all knew and he said just our parents and one friend. Pretty much right on cue, all of my closest friends burst through the door. He had them hang tight next door and grab drinks until he was ready for them to come to surprise us. He wanted the moment itself to be just the two of us and then wanted all of my closest friends to come to celebrate the moment with us. It was just perfect. I like him a lot.