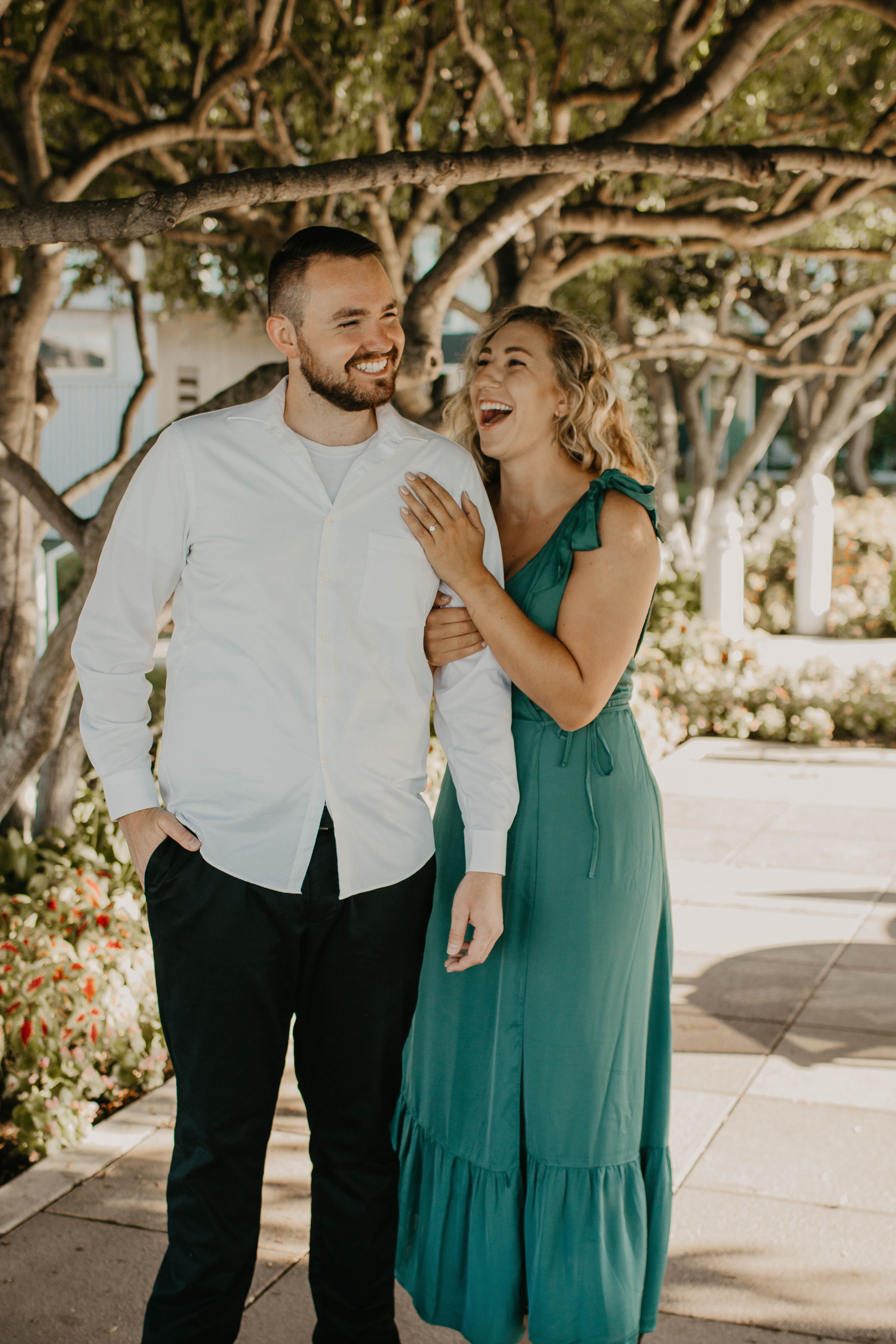 How We Met
Allie and Dallas met in the Spring of 2019 at Allie's house. Dallas walked through the front door as a complete stranger and the rest was history…
In all seriousness, meeting in a small group was one of the biggest blessings we ever could've hoped for. Although I was caught off guard by the tall, dark, and handsome young man that walked through my door, we were strictly friends from the start. We both had lingering pain from past relationships, and that was the last thing either of us wanted was the complexity of starting over. We yearned for simply a close-knit friend group that kept God at the center. We got that and so, so much more.
Getting to know each other in a small-group setting is just as intimate as one would imagine. In a short amount of time and a few words from Dallas' end, we knew each other better than most lifelong friends either of us had. It wasn't until October of 2019, when a couple of our friends were getting married, that Dallas' sister, Stacia, pointed me out amongst the crowd.
From there, Dallas formerly approached me about dating and I respectfully declined (As it turned out, I was really great at being independent and anything other than that became terrifying). Little did I know, God had much greater plans for us than simply small group friends. I genuinely tried to fight any feelings I felt for Dallas but as I was halfway around the world, he asked me to join him at his work Christmas party. Despite better judgment and an 8 hour time difference to adjust to when I returned home, I joined him the very next day… and then another work Christmas party a few days later… and then meeting his entire immediate family the following week – I'll never let him live down throwing me directly into the fire before we were officially dating (but I promise I wouldn't change it for the world).
How They Asked
We had talked about engagement for a couple of months but nothing really came to fruition. Our lives both had a lot going on and, although impatient, no part of me felt that pushing for engagement would ensure God's timing on taking the next step in our relationship.
Once again, the pandemic forced yet another of our trips to cancel and our wanderlust was yearning for something… anything. We planned a trip with two other couples to go back to Big Cedar Lodge for another vacation. Dallas and I were just finishing my kitchen remodel (if you know, you KNOW) and we were more than ready for some time away from my house. Leading up to our trip, Dallas was a little more distant, but nothing that created too many red flags.
The second night, Dallas opted to take me out on a 'date night.' We grabbed some takeout and headed to Lookout Point for some much needed time alone. Dallas went all out by packing wine, music, and timing the sunset just about right. We spent this time talking about our relationship, our goals, and simply affirming each other until Dallas asked if I would dance with him. I was caught off guard by this notion but it was soon after that as he slipped into a script of our love story and his favorite things about me, tears quickly filled my eyes and Dallas got down on one knee.
If you've made it this far you deserve to know… I UGLY cried. I pictured how I'd react at this moment countless times and never once did I get emotional. It felt right, I was confident in us, there wasn't a doubt in my mind, and here I stand on the top of this hillside… sobbing. It was just the two of us sharing this moment, at one of our favorite places, and it was perfection.
It's notable to mention that as we settled into our engaged-ness, a couple approached us and asked for Dallas' email address. They had joined us at the top in an effort to capture the sunset and he had snapped pictures of the entire moment. Lord knows I didn't need the pictures to remember this day, but He also knew how much we'd appreciate them.
If there's anything to learn from this novel, it's to let God write your love story. It'll most definitely turn out beyond your wildest dreams.