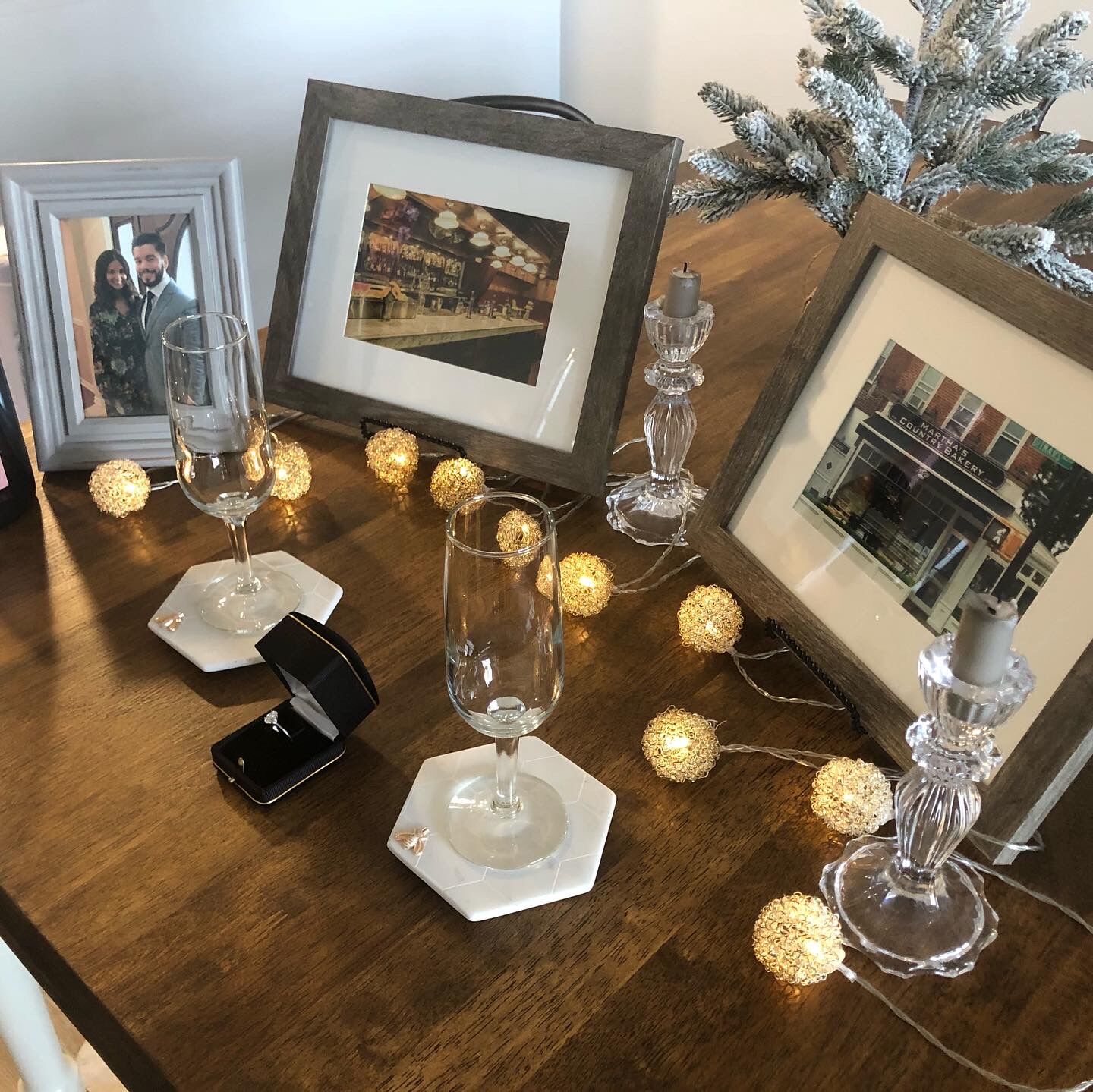 How We Met
We met on the Bumble dating app, since then bumblebees have kind of been "our thing". I had been single for a while and in the mindset that the right one will find me without me having to look. My friend was at my family's house for dinner one night and decided to make a profile on bumble for me. She spent two days sending me pictures of guys, each to which I said "nope". When she sent me Andrews's picture I said " he's cute". She swiped and we matched. She screened him for a few hours to make sure he was looking for more than a hookup and the next day said " ok, he has potential!" And gave me my bumble username and password to keep talking. We spoke every day for almost two weeks before deciding to meet. Drinks, a comedy show, and dessert turned into a 6-hour first date.
How They Asked
After two and a half years together we decided to move to NJ. The NYC life wasn't really where we wanted to settle down and so we figured why not move closer to the Andrews family. The first three months in our new apartment was tough on me. I went from working 10 -12 hour days to being unemployed and spending my days applying for jobs and interviewing. I was down and out but trying to remain positive while adjusting to a new state. Needing my GPS to get to the grocery store made me feel like a fish out of water. Andrew as always was supportive and wiped my tears during my many breakdowns when I was feeling defeated.
I finally found a great job and feeling settled in the new place. Two weeks later, on a Friday night, he texted while I was at work that he was ordering take out. He sent me the menu and I picked my dish. I expected to come home to take out pasta but instead walked in to see Andrew dressed up, candles lit, champagne, and pictures of the bar and dessert spot from our first date. He got down on one knee and in the most perfect of settings and ways, asked me to marry him. Turns out his brother who has been married 10 years took him to the same jeweler he used to get the ring. His sister helped him a print and get the frames, and my family knew when it was happening because he asked for their permission a week prior. He made sure that even though all my favorite people weren't there, they had a part in it. Oh, and he set up the iPad to record it all so we had memories to send to our families. Did I mention he got coasters that had bumblebees on them?!