Whether your personal style is modern, classic, or glamorous, there's a vintage engagement ring out there for you. From colorful gemstones to unique details, there's a reason vintage engagement rings are one of the most searched-for style. We consider vintage engagement rings to be some of the most elegant; there's just something about the old-school manner that has us swooning. If you're looking for an engagement ring like no other, you're in the right place. Today, we're sharing our 10 favorite dreamy vintage engagement rings.
1. Hand-Engraved Milgrain Diamond Halo Engagement Ring
Wow. This stunning engagement ring is the perfect glamorous yet vintage design. We're swooning over the unique ring band, the diamond halo, and the breathtaking size of the center diamond. If your partner is looking for something eye-catching and romantic, this is the perfect engagement ring for them.
2. ZAC Zac Posen Curved Cathedral Solitaire Engagement Ring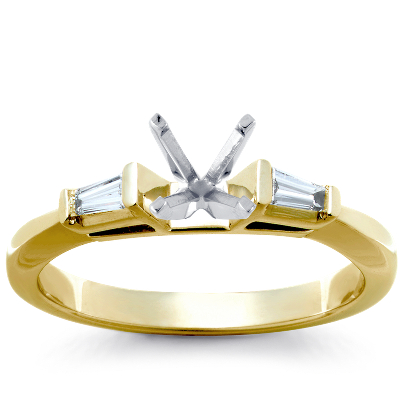 Nothing screams vintage like a smooth, yellow gold ring band. From the solitaire setting to the shine of the gold, you can't go wrong with an engagement ring like this.
3. Emerald and Diamond Halo Three-Stone Ring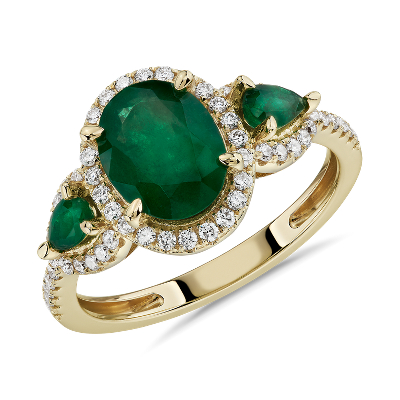 The demand for diamond alternative engagement rings has been much higher than usual in recent times. We can see why! This gorgeous three-stone emerald engagement ring has all the vintage mannerisms we'd look for in a ring. And if your partner isn't sold on the emerald stone, it also comes in ruby AND sapphire!
4. 14K White Gold Regal Frame Diamond Engagement Ring
How unique is the shape of this James Allen engagement ring!? We are seriously obsessed! Looking to 'WOW' your partner and surprise them with a vintage engagement ring unlike any other? This is the perfect choice!
5. Emerald-Cut Yellow Sapphire and Diamond Ring
Let's be real, you can't go wrong with an emerald cut engagement ring. And this yellow sapphire engagement ring from Blue Nile is quite possibly one of the most beautiful engagement rings we've ever seen. Not only does the yellow sapphire give such a vintage feel, the gorgeous ring band has incredible detail. Your partner won't ever want to stop looking at their hand!
6. Monique Lhuillier Draped Eternal Diamond Engagement Ring
If there ever were to be a classic vintage engagement ring, this would be the winner. From the beautiful ring band detail to the solitaire set center diamond, we couldn't be more in love with this engagement ring.
7. 14K White Gold Infinity Milgrain Halo Engagement Ring
A mix of yellow and white gold and an elegant design. The perfect combination to make one of the most beautiful vintage engagement rings we've seen.
8. 14K White Gold Bird of Paradise Engagement Ring
Talk about unique! This vintage engagement ring is such an eye-catching piece! From the unique shape to the way the diamonds are set, we're sure your partner will be blown away when they see this ring.
9. Ruby Round Cut Halo Engagement Ring in 18K Yellow Gold
A ruby gemstone screams vintage, and there's nothing quite as romantic as a deep red stone. Paired with beautiful diamond detail and a yellow gold band, we'd like to say this is in our top 3.
10. 18K Yellow Gold Beaded Bezel Set Diamond Engagement Ring
How dreamy… This engagement ring is perfect for your partner if their personal style is girly, elegant, and they're ready to begin their fairytale with you.
---
Still not sure what your partners dream ring would look like? You can take our three-step quiz to find out their dream engagement ring!
Disclosure: This post contains affiliate links, some of which may be sponsored by paying vendors.